News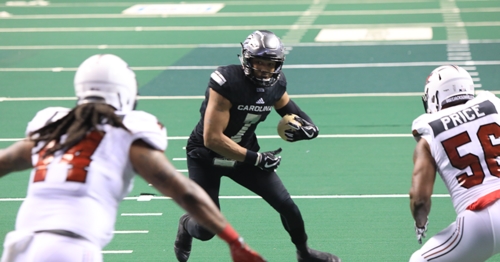 04/25/2018 2:02 PM
-
GREENSBORO- The Carolina Cobras (2-1) take a trip down south to Jacksonville, Florida to take on the Jacksonville Sharks (1-2) on Saturday, April 28, 2018. The Cobras hosted the Sharks in week one of the season, but couldn't come up with a win, falling behind 38-41. This week, the Cobras look to redeem themselves and walk out of Jacksonville with a win.


Last week, the Cobras had an impressive victory against the undefeated Massachusetts Pirates, who are now 2-1. Offensively, Quarterback Charles McCullum threw for eight touchdowns against the Pirates. In a constant battle with playing catch-up and defending the goal, the Cobras came in the clutch and scored in the final minute of the game to seal a victory and move to 2-1 for the season.


A player to watch in this one is Quarterback McCullum. A key quarterback in a game is very important, but a quarterback can't do much without wide receivers. Another player to watch is McCullum's secret weapon, which is Phillip Barnett. Barnett did an outstanding job against Jacksonville in the first week of the season. That could continue as he could have yet another great game against the Jacksonville defense, who gives up an average of 50 points per game (38, 63, 51). On the defense, a player to watch is Defensive Back Cedric Poole. Poole has made some great plays, shutting down receivers and coming up with creative ways to snag an interception. A player that played a huge role in making sure Carolina won last week is Defensive Lineman Toni Pulu. Pulu reeled in the fumble recovery to make sure the Cobras offense could wind the clock down.


This is the second time the Cobras face the Sharks this season. There will be one more meeting between these two teams in Greensboro, North Carolina on Saturday, June 9, 2018 for Superhero/Teacher Appreciation Night. This weekend's game will be streamed on Youtube Live and a link for the stream will be posted on the team's social media accounts.



ABOUT THE CAROLINA COBRAS
The Carolina Cobras are members of the National Arena League (NAL). Founded in 2017, the Carolina Cobras will play their inaugural season in 2018 at the Greensboro Coliseum. Cobra Season Ticket Memberships are on sale now call (336) 445-7232 or visit carcobras.com. Follow the Cobras on Facebook at facebook.com/carcobras, twitter.com/carcobras and instagram.com/carcobras.


ABOUT NATIONAL ARENA LEAGUE
The National Arena League was founded in 2016 and hosted its inaugural season in 2017 as the premier league in arena football. The National Arena League will kick off its second season in April of 2018. For more information regarding expansion opportunities or partnerships, contact Commissioner Chris Siegfried at [email protected] or Expansion Chairman Jeff Bouchy at [email protected] For more information about the NAL visit www.nationalarenaleague.com, facebook.com/nationalarenaleauge, twitter.com/NALfootball, Instagram.com/natiionalarenaleague.