News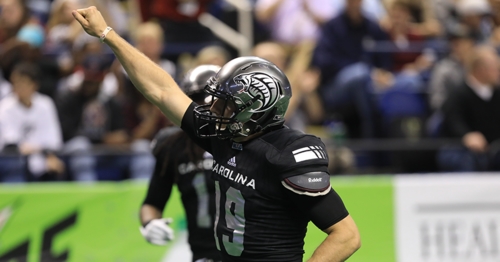 04/12/2018 4:13 PM
-
GREENSBORO- The Carolina Cobras (0-1) are traveling to Portland, Maine to take on the Maine Mammoths (0-1) in their first road game of the season. Both teams enter this week 0-1 as Carolina lost to the Jacksonville Sharks (1-0) and the Mammoths lost to the Massachusetts Pirates (1-0). This also means that the Cobras are still looking for their first win in team history after suffering a nail biting 41-38 defeat to the Sharks..


Led by Quarterback Charles McCullum, who threw 22 completions for 173 yards, five touchdowns, and two interceptions. Wide Receiver Phillip Barnett has shown that he is the Hidden Ace in the offense, as he had six receptions for 37 yards and four touchdowns in last week's matchup against the Jacksonville Sharks. Another Wide Receiver that had a high number of targets was Tyron Laughinghouse with eight receptions for 73 yards and one touchdown. These three will be the players to look out for, as they proved that they will wreak havoc on the defense.


The player that landed the first interception in team history was Darius Thomas who will look to week 2 to get his first win as a Cobra. The Cobras will return to Greensboro to host Country Night on Saturday, April 21 at the Greensboro Coliseum.


This Saturday's game will be streamed on Youtube Live and a link for the stream will be posted on the team's social media accounts.



ABOUT THE CAROLINA COBRAS

The Carolina Cobras are members of the National Arena League (NAL). Founded in 2017, the Carolina Cobras will play their inaugural season in 2018 at the Greensboro Coliseum. Cobra Season Ticket Memberships are on sale now call (336) 445-7232 or visit carcobras.com. Follow the Cobras on Facebook at facebook.com/carcobras, twitter.com/carcobras and instagram.com/carcobras.


ABOUT NATIONAL ARENA LEAGUE
The National Arena League was founded in 2016 and hosted its inaugural season in 2017 as the premier league in arena football. The National Arena League will kick off its second season in April of 2018. For more information regarding expansion opportunities or partnerships, contact Commissioner Chris Siegfried at [email protected] or Expansion Chairman Jeff Bouchy at [email protected] For more information about the NAL visit www.nationalarenaleague.com, facebook.com/nationalarenaleauge, twitter.com/NALfootball, Instagram.com/natiionalarenaleague.