News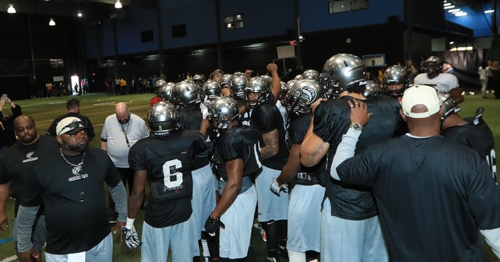 04/05/2018 2:45 PM
-
GREENSBORO- The Carolina Cobras are set to kick off their Inaugural Season on Saturday, April 7, 2018 at 7:00 pm (ET) in the Greensboro Coliseum against the defending National Arena League Champions Jacksonville Sharks. The Cobras will be looking to get their first historical win.


The Cobras announced their final 24-man roster on Thursday, April 5, 2018. All 24 players are new to the team, but not all players are new to the coach.


"I'm like a kid before christmas or a bull chomping at the bit to get going! The later start of the season has us anxious to go. We have a great test on our hands for week one to gauge where we stand with the defending champs coming to town. So we will need the support of the entire Triad area," said Head Coach Billy Back. "This is game one in franchise history, our goal is to give this area really something to be proud of!"


10 of the 24 players have played for Coach Billy Back in previous seasons -- QB Charles McCullum, QB/WR Tyrell Goodman, WR Jermaine Jones, WR Tyron Laughinghouse, WR Phillip Barnett, DB Mike Green, OL Anthony Jackson, OL Damien Paris, and OL Jordan Mosely. Seven of them come with him from Wichita Falls and the others come from previous teams.


One player that stands out the most is WR Phillip Barnett. Him and Coach Back first got connected when Barnett was in high school playing under Back. After college, Barnett started his arena career with Back in 2012 and played on his teams every year except 2016.


Veteran QB Charles McCullum will be throwing to wide receivers Tyrell Goodman, Jermaine Jones, Tyron Laughinghouse, and Phillip Barnett.


On the defensive side of things, the defense is lead by linemen Dwayne Beckford, Omari Manhertz, Ricky Dowdy, Bryan Houston, Faleaoga Russell, and Jamal Palmer and defensive backs Marquez Gollman, Cedric Poole, Antwan Hadley, Darius Thomas, Mike Green, and Keith Lewis.


The Cobras will be on the road the following week (April 14th) as they head north to Portland Maine, to face the Maine Mammouth. The Cobras return to the Coliseum April 21st vs. Massachusetts Pirates as they host Country Night. This Saturday's game will be streamed on Youtube Live and a link for the stream will be posted on the team's social media accounts.


All Media request should be submitted no later than Thursday April 5th, please contact Steven Shotola at [email protected]





ABOUT THE CAROLINA COBRAS

The Carolina Cobras are members of the National Arena League (NAL). Founded in 2017, the Carolina Cobras will play their inaugural season in 2018 at the Greensboro Coliseum. Cobra Season Ticket Memberships are on sale now call (336) 445-7232 or visit carcobras.com. Follow the Cobras on Facebook at facebook.com/carcobras, twitter.com/carcobras and instagram.com/carcobras.


ABOUT NATIONAL ARENA LEAGUE
The National Arena League was founded in 2016 and hosted its inaugural season in 2017 as the premier league in arena football. The National Arena League will kick off its second season in April of 2018. For more information regarding expansion opportunities or partnerships, contact Commissioner Chris Siegfried at [email protected] or Expansion Chairman Jeff Bouchy at [email protected] For more information about the NAL visit www.nationalarenaleague.com, facebook.com/nationalarenaleauge, twitter.com/NALfootball, Instagram.com/natiionalarenaleague.