News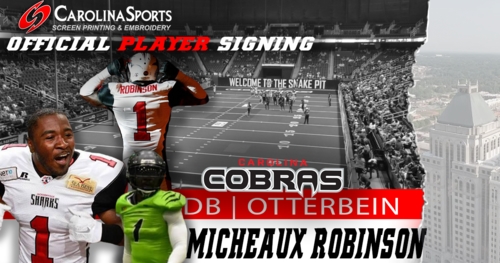 10/27/2020 11:40 AM
-
Micheaux Robinson (5'9'' 175lb Otterbein) is a real veteran of the game. Robinson is a native of Ohio(Fostoria) where he was a three sport athlete in high school, went on to play college football at D3 Otterbein University where he was a two sport student athlete Football/Basketball. After college Robinson had a challenging journey as do majority of players chasing their dream of professional sports, through NFL combine and numerous workouts where he was consistently complimented on his talent he was denied due to his stature for the defensive back position. His desire never ceased as he continued to push for an opportunity which finally came in 2007 when he was invited to camp with the Orlando Predators(then AFL) where Robinson made the team and earned very valuable playing experience as a rookie. Once the league shut down a majority of players were forced to find other playing opportunities which landed him with the AF2 Wilkes-Barre Pioneers (PA). '08 '09 where he earned two First Team All-League Honors and DPOY('09). The AFL would return in 2010 where he was signed to the Jacksonville Sharks. Robinson spent the majority of his indoor career with Jacksonville earning multiple All-League honors, DPOY('11) and two Championships('11, '17) while making a jump to the CFL (Montreal Alouettes) in between those seasons. No NFL opportunities would come so he contemplated what his playing future would hold. Approaching the 2018 season he got a call from coach Res (then of the Atlanta Havoc AAL) to bring his talent/experience back to the field, where they would win the American Arena League Title and another First Team All-League Honor. This sparked new inspiration for him to continue playing the game he had loved going into 2019 but business problems on the field, as well as off, would force a decision to not participate. The newest challenge we as a country are facing with COVID ultimately shutting down most activities, really for him personally has granted time and a chance to look in the mirror to ask that person staring back what his heart truly desired and that was to play football. As Robinson said, "This game has always been there to teach, motivate and strengthen me through the rollercoaster of life. Being an underdog and a person who feeds off challenges, I felt for the first time what it's like to not be around this game at a certain time of year and I was miserable. Yet again the voice of Coach Res came across my line with the blessing of getting on the field, which we sometimes take for granted and also, no other teams in the league had placed in front of me. Knowing him as a family man, as a coach and the level of expectations he has for success in life there was no way that I would turn him down from bringing my experience and leadership to what he has helped build within this Cobras Organization. Not only him but Mr. (Rob) Storm and his lovely wife Sabrina who have always welcomed me and shown nothing but love during our time/success in Jacksonville. These people along with the brotherhood of the players across the league are perfect timing for me to put some energy back into the game I love so dearly, and for the young guys fighting the fight coming after me. I'm looking forward to interacting with the city and fans of Greensboro and bringing the same character and energy that I have been blessed to share with so many great people along my football journey."
Coach Resignalo said about Robinson, "When we are building our team, we are looking for a good mixture of veteran players and rookies. It's important to find the best players possible but need to have veteran leadership and hungry young guys. Signing Micheaux, you get a hungry competitor that brings veteran leadership. I've coached a lot of players and Shy by far is one of my favorite players in the arena game. He is respected amongst his peers and other coaches and that is a huge accomplishment for any football player or athlete for that matter. Shy was a big part of our defense with the Havoc in 2018 where he helped lead the top defense, which led us to a championship. Shy is a selfless player and always puts his teammates and team first. That is why he will be an immediate fan favorite in the Snake Pit. I am excited to coach this guy again, which is really an understatement. He's coming to Carolina to help us win another ring and bring that trophy back to Greensboro where it belongs!"
ABOUT THE CAROLINA COBRAS
The Carolina Cobras are members of the National Arena League (NAL). Founded in 2017, the Carolina Cobras are starting their fourth season in 2021 and were the 2018 National Arena League Champions. The Cobras play their home games at the Greensboro Coliseum. Cobra Season Ticket Memberships are on sale now call (336) 445-7232 or visit carcobras.com. Follow the Cobras on Facebook at facebook.com/carcobras, twitter.com/carcobras and instagram.com/carcobras.
ABOUT NATIONAL ARENA LEAGUE
The National Arena League was founded in 2016 and hosted its inaugural season in 2017 as the premier league in arena football. The National Arena League will kick off its fifth season in 2021. For more information regarding expansion opportunities or partnerships, contact Commissioner Chris Siegfried at [email protected] . For more information about the NAL visit www.nationalarenaleague.com, facebook.com/nationalarenaleauge, twitter.com/NALfootball, Instagram.com/nationalarenaleague.