News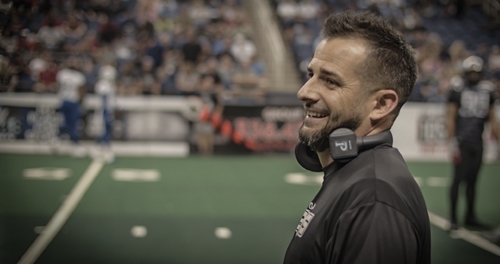 08/01/2019 5:15 AM
-
Talk Back: w/ Head Coach Billy Back
Sitting down Tuesday morning after practice with Coach Back, CarCobras.com had a chance to ask him a few questions about both the regular season as well as the playoff game Saturday night at the Greensboro Coliseum at 7pm versus the Massachusetts Pirates, where you can get tickets to over 80% of the Coliseum for just $10.
---
CarCobras: Now that the regular season is over, what would you say your thoughts are about it, or is your focus strictly on the playoffs?
Coach Back: Well the season is not over yet, but at the same time this has been the most trying, adverse, season I have ever had. We have six guys on season ending IR (Injured reserved), all six major contributors. Losing Walt (Thomas Jr), losing Joe (Harris), and losing Clayton (Banner), was something we never dealt with before. Then you have the New York incident, you have all this stuff with the suspension, it was my first time missing a game in 10 years. While it may have been the most adverse season, we are still in a great position to defend our title. The highs and lows of this season have been back and forth. It has been the most trying season in my career, but at the same time we are 10-4, and I am going to continue to say 10-4. Our focus is Massachusetts, it has been Massachusetts the last two weeks, we didn't prepare for Columbus, we prepared for Massachusetts last week. We have one game to get to the Championship.
CC: We haven't seen Massachusetts since week two. How do you see they have changed, and how have the Cobras changed since then?
Coach: We have both gotten better offensively. The first two games we played both offenses were stagnant, we couldn't move the ball very well besides blown coverages, they couldn't move the ball at all. They were just meshing with a new head coach, they also had injuries to their Center, and their Center is pretty good. Our receivers were young and trying to learn, so in reality it was a defensive battle. We got some breaks as we took advantage of a younger secondary. That secondary has matured, they have played an entire season and know what to expect, but at the same time it is going to come down to who wants it most. I feel like our guys are hungry and they have been in this situation
before and I have no doubts our guys are going to be ready to play.
CC: Jordan Jolly sets the NAL record for most yards and ties the NAL record for receptions and touchdowns. What does he mean to this team?
Coach: Jolly is hands down the best receiver in this league, the best receiver in any league to me, because I think the duo of Charles McCullum and Jordan Jolly there are a lot of the things they do on the field that you can't coach. They just know what point A and point B is on the field and no one else does. If I call a play and it is not the exact route, and Jolly gets open, then it is a great play call. That is what you want for your players, you want chemistry, and that is what we lacked early on. Chuck (McCullum) had that chemistry with Jolly, but now we are getting that chemistry with Von (Pearson), with (Kyrin) Priester, with (James) Summers. Dave Jordan had some good chemistry last week. It is all about knowing where they are going to be on a certain play at a certain time. Our playbook is an idea, we run to green, and if you get to green you are going to be open. With Jolly he is hard to cover, hard to stop, his IQ in this game is high and he has great hands, illusiveness and he doesn't come off the field other than defense. He is on kickoff, kickoff return, field goal, extra point. He is our most valuable player when it comes outside the quarterback position.
CC: Who do you think would be the player that has surprised you the most during the year?
Coach: Micah Robinson has surprised me. From coming into camp, he has been so dominant. I think Priester has became dominating, and in camp it was we were going to cut him, but we kept him because we believed in him. He has become a player who can be dominant with the ball and make a play with the ball in his hands. But I would say that Micah Robinson has been that guy, coming into camp with guys like Steve Miller, and other guys with names on that defensive line, and then it was like Micah was our best defensive lineman in camp and is still in our top two. It is him, Bill (Vavau), Miller, (SeVon) Pittman, Dante Holmes in a close, close, close, second, 1B. I would take our defensive line over any defensive line in the country, in any league. Just the way they play together, they get after it, they are relentless, but yes Micah Robinson has been a pleasant surprise for us.
CC: Now I know last year the end of the season awards were the ammunition that powered the Cobras into the Championship game. They pretty much overlooked most of our roster. Do you see that happening again this year?
Coach: Jordan Jolly is hands down the Offensive Player of the Year. You look at Quarterbacks in the league, which quarterback has played the entire season and had success. If you look at all the QBs who played the entire season, you simply have to look at the numbers. Chuck had more yards and TDs than any of them. (McCullum had 2,883 yards and 66 TDs, next closest is Sean Brackett with Mass who had 2,523 yards and 57 TDs). So in my eyes, MVP is Charles McCullum and Offensive Player of the Year is Jordan Jolly. Defensive Player of the year would be someone on our defense or someone on Jacksonville's defense. There is the obvious, and then there is what perception is going to be to who they pick. At the end of the day we don't play for accolades, we play for rings.
CC: What message do you have for Cobra Nation?
Coach: Don't miss August 3rd! It Is going to be a game. They are coming in hard, they are coming in ready to play, they have some big money names, Dexter McCluster, (Brandon) Washington, the former tackle of the New England Patriots. So come out on Saturday night, we are going to be fired up. It is going to be a high octane, fast paced game. I put my money on the Cobras. So, make sure you come out and be our 9th man, the Cobras are going to need all your support on this road to repeat. You can get tickets now at Ticketmaster or call 336-455-7232 extension 2. If you have been to a Cobras game before, bring a friend. If you haven't been to a Cobras game before, come give it a try. Indoor (72 degrees) football, if you think it is hot outside, just wait until you see the heat on the field. This isn't training camp, this is REAL Playoff Football!
Interview Conducted by: DJ Wagner