News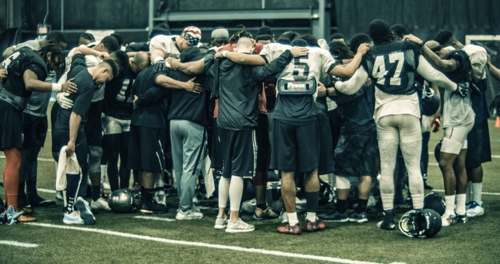 04/11/2019 11:52 AM
-
GREENSBORO, NC – Getting ready to defend their 2018 NAL Championship title the Carolina Cobras will head to the DCU Center in Worcester, MA to kick off their 2019 season against the
Massachusetts Pirates. The roster has experienced some changes this offseason as they bring in some new talent alongside their existing core.
Head Coach Billy Back and the organization were excited to announce the promotion of Joshua Resignalo to Defensive Coordinator. Looking towards the upcoming season, Coach Back emphasized the importance of his staff, "we have a new group coming in along with some of our core guys, but it's going to be a true coaching season for us. We've got some guys that
have got to learn the game and prove it on the field."
Coach Back will have the support of a strong group of starters from the 2018 season. Among them star Quarterback Charles McCullum, who lead the team in passing, rushing and total offense will be returning for the Cobras. He will be supported by returning offensive linemen Joe Harris and Chad Kolumber, as well as other new faces. Two of the top four receivers from last season are returning; Jordan Jolly and Fabian Guerra. Among the new faces to this aerial assault are Tyree Robinson from Western Kentucky, rookie Kyrin Priester from Washington State, and Greensboro local James Summers.
The defensive side of the ball is returning their top three tacklers; Cedric Poole, Mike Green, and Darius Thomas. The Cobras defensive line retained Walter Thomas and added Syracuse product Micah Robinson, former Carolina Panther Steve Miller, as well as Jarrell McKinney and Se'von Pittman.
Kicking for the Cobras will be 2017 1st Team ALL-NAL Special Teams Player of the Year, Nick Belcher from South Carolina State. After their 66-8 victory over the Columbus Lions to win the NAL Championship last season, the Carolina Cobras and Coach Billy Back believe they have put together the necessary pieces to chase that title once again.
1 QB CHARLES MCCULLUM
2 DB KEN WALTON II
3 DB CEDRIC POOLE
4 WR JORDAN JOLLY
5 WR TYREE ROBINSON
6 WR FABIAN GUERRA
7 DL SEVON PITTMAN
8 DL STEVE MILLER
9 DB DARIUS THOMAS
10 WR KYRIN PRIESTER
11 WR JAMES SUMMERS
12 WR LOVIE ROSE JR.
15 WR ZACH DUCKER
17 DB MIKE GREEN
19 WR ERIC BROWN
20 DB TROY SANDERS
21 WR JOE MORROW
27 WR SAM BOYD
33 WR David Jordan (IR)
47 K NICK BELCHER
50 OL BILL VAVAU
55 OL JEREMY SCHONBRUNNER
72 OL JOE HARRIS
75 OL Darriel Mack
76 FB DESHAWN JOHNSON
77 DL WALTER THOMAS II
79 OL CHAD KOLUMBER
93 DL MICAH ROBINSON
99 DL JARRELL MCKINNEY