News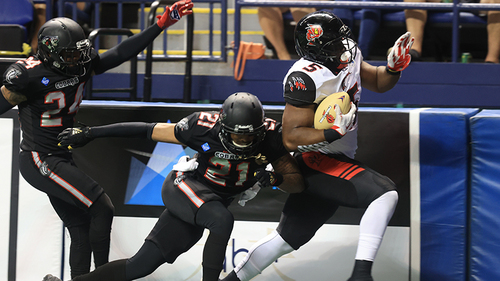 07/17/2021 8:52 PM
-
GREENSBORO - The (1-4) Cobras looked to strike for their first home victory against the (3-3) Orlando Predators for a special "Christmas In July" theme night. The Cobras, with playoff hopes on the line, made big adjustments starting new signee quarterback Aaron Aiken as well as welcoming back kicker TC Stevens who missed last week with an arm injury. Just one game back from playoff contention with their backs against the wall, the Cobras struck early and didn't let up.
The Cobras came out aggressive, looking to attack early, with Aiken leading the huddle and slithering the Cobras down the field. Aiken proved to be the right move after a successful march down the field in the opening drive setting up for TC Stevens, back from injury knocked the ball through the upright posts that brought Cobra Nation to their feet. After a defensive stop the momentum continued to stay with the Cobras as Aiken found NALS' Kendrick Ings for a 45-yard touchdown. In the 2nd quarter the snake pit was enjoying Stevens' kicks through the uprights as the defense kept up the energy with defensive back Micheaux Robinson intercepting quarterback Pat O'Brien in the red zone.

The end of the first half continued to be fireworks with Aiken connected again for the Cobras with Ings for a second another touchdown this time for 30 yards. After a Predators' score, Aiken threw a deep bomb to James Summers, setting up a QB keeper for a touchdown and the last points scored in the half. The Cobras went into halftime with the fans on their feet as the Cobras had the lead 26-22.
The 2nd half is where the Cobras began to lose momentum after failing to score in the third period. The offense regained momentum in the 4th with Aiken connecting with BJ Bunn for a 30-yard connection. After a huge defensive stop on third, the Predators kicked for a field goal that instead ended up being Herbert Waters' return kick to bring Carolina in striking distance of victory. Sadly it wasn't enough as Carolina suffered defeat, losing 43-40 in their final home game. The final home game was a well fought battle by Coach Res and his Carolina Cobras, providing thrilling at the Coliseum that came down to the final plays. Fans also got a first look at Aaron Aiken, who finished the game with 189 passing yards and four combined touchdowns. Ings kept up his route running, torching the defense for 104 receiving yards on 6 catches.

Next week the Cobras travel down south to take on the Jacksonville Sharks, Saturday, July 24. The last meeting between these two saw Carolina fall just short 52-50, and the Cobras will be looking to right that ship.