News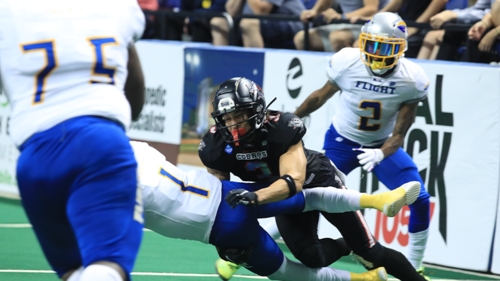 06/20/2021 2:56 PM
-
GREENSBORO - Following their week 3 loss to the undefeated Albany Empire the Cobras (1-1) looked to rally in front of their home crowd for their 2021 home opener against the Jersey Flight. First half struggles put the Cobras down 27-7 at the half with the Cobras lone score coming from a 33 yard fumble return from Justin Chandler that brought life back into the Snake Pit.


Cobras Coach Res gathered the troops into the locker room at halftime with a demand to put points on the board for Cobras nation. Fans looked to Sam Castronova to step up to answer the call. The first-year Cobras starting quarterback strapped on his helmet into the 3rd quarter, opening the half with a 16-yard touchdown strike to Kendrick Ings with Cobra Nation behind him. Castronova even took him upon himself to run one in for a touchdown to get the score to 27-14. However Carolina's come back plan to deliver the Cobras first win at home was delayed by the Flight who offense totalled six touchdowns on the night against the Cobras defense including three from the air by Flight quarterback Warren Smith and a three rushing touchdowns between Smith and his receivers Dangerfield & Sammons.


On special teams TC Stevens was three for three on extra points but the biggest play on special teams came from defensive lineman Ethan Farmer who had a huge blocked kick on a Flight field goal attempt. Wide receiver BJ Bunn also had an impressive night catching 6 passes for 77 and 1 touchdown. The Cobras' biggest need in this game was a win in the trenches; the Flight's three sacks against the Cobras was not contested as Carolina's defensive line did not gain a sack this game.


Moving into week five, the Cobras (1-2) will continue to take a look at their defense who is set to take on the (3-1) Columbus Lions whose quarterback is ranked second in the NAL for passing yards and touchdowns after defeating the Sharks in Columbus 56-32. The Cobras match against the Lions is this Saturday, June 26th for Country Night. For tickets call 336-445-7273 to reserve your tickets now.


ABOUT THE CAROLINA COBRAS
The Carolina Cobras are members of the National Arena League (NAL). Founded in 2017, the Carolina Cobras are in their inaugural season in 2018 at the Greensboro Coliseum. Cobra Season Ticket Memberships are on sale now call (336) 445-7232 or visit carcobras.com. Follow the Cobras on Facebook at facebook.com/carcobras, twitter.com/carcobras and instagram.com/carcobras.