News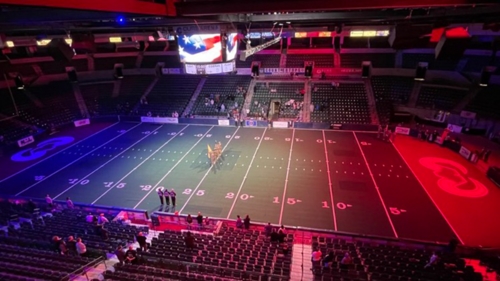 05/28/2021 8:54 PM
-
TRENTON - In a 45-42 thrilling season opener, the Carolina Cobras gained their first win of the season after a nail biting game-winning field goal against the Jersey Flight at the CURE insurance arena in Trenton, NJ.


The Flight struck first in this one after a 2020 NAL hiatus from arena football with a rushing touchdown from the 2017 NAL MVP QB Warren Smith Jr. The Cobras quickly struck back with their first touchdown of the season with a QB sneak by Sam Castronova. The Cobras kept the lead in the second half with a 22 yard touchdown reception from Cobras receiver James Summers but a buzzerbeater touchdown from Jersey's Smith Jr. to Flight receiver Jared Dangerfield put the Flight up 20-16 at the half.


The Flight tried to put distance between Jersey and Carolina by opening the second half with a deuce by Jersey Kicker Pat Clark but that was quickly met with a Cobras 16-yard strike from Castronova to receiver Kendrick Ings. The 3rd quarter was dominated by Carolina as Ings gained his second touchdown reception for 19 yards that was followed by a bar ball catch by Carolina defensive back Kenny Veal on kickoff that returned possession to the Cobras.


It was a fight to the finish, despite a 24-yard Castronova to Ings touchdown pass. Warren Smith Jr. and the Flight continue to the points on the board. During a crucial fourth & three Carolina receiver Julius Gregory gained the clutch first down that led to a fourth touchdown reception from Kendrick Ings on a 9-yard touchdown grab. On the road the Carolina Cobras found themselves tied 42-42 with less than 10 second left in the game, it came down to the Cobras special teams who finished the game with a game-winning field goal to put the Cobras over the Flight 45-42 in the National Arena League season opener. Stevens finished the night with nine points going 4-5 for extra points, landing one duece and the game-winning field goal that put the Cobras on top 45-42, however even a game-winning play cannot overshadow the four-touchdown performance from veteran wide receiver Kendrick Ings, who spent the majority of his career in the NFL, CFL, AFL who displayed his NAL deput with four touchdowns receptions with co-star quarterback Sam Castronova. The Cobras will enter a bye week before returning to action Saturday, June 12 against the Albany Empire at the Times Union Center in Albany, NY.


ABOUT THE CAROLINA COBRAS

The Carolina Cobras are members of the National Arena League (NAL). Founded in 2017, the Carolina Cobras are in their inaugural season in 2018 at the Greensboro Coliseum. Cobra Season Ticket Memberships are on sale now call (336) 445-7232 or visit carcobras.com. Follow the Cobras on Facebook at facebook.com/carcobras, twitter.com/carcobras and instagram.com/carcobras.