Player Roster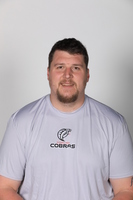 Active
Chad Kolumber
#79
Position:
OL
Date of Birth:
09/11/1991
Height:
6' 7"
Weight:
330 lbs
Pro Experience:
3 Years
College:
University of Richmond
Birthplace:
Norristown, PA
Biography:
Sign with Carolina Cobras December 8, 2017 for his third season in arena football.(Carolina: 2018 - Present, Colorado: 2017, Iowa: 2016)
Pro Experience
2017: Helped lead the Crush offense to 880 rushing yards, 2,185 passing yards and 39.3 points per game. 2016: Played for the Iowa Barnstormers as right guard. Kolumber helped Iowa to 893 rushing yards, 3,523 passing yards, 34 total rushing touchdowns and 46.1 yards per game.
College
Finsished his career at the University of Richmond. Kolumber was named to the 2012 CAA Football All-Academic Team. Prior to the univesity of Richmond, Kolumber played for the University of Kansas.
Personal
A native of Norristown, Pennslyvania, where he played for Woodberry Forest High School. At Woodberry Forest he earned First Team All-State, All-Prep league honors and helped Woodberry to two VISSA Prep League Titles.