News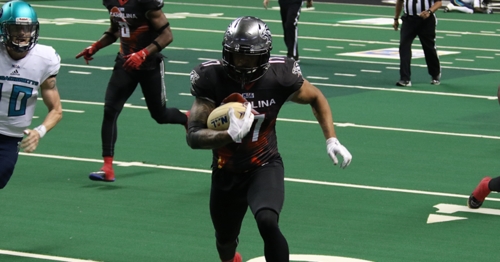 05/30/2018 1:03 PM
-
GREENSBORO- The Carolina Cobras (5-2) are heading to Allentown, Pennsylvania, this week as they take on the Lehigh Valley Steelhawks (0-6) for the second time this season. The last time these two teams faced each other, the Cobras nearly shut out the Steelhawks, crushing them in Week 5, 65-3, at home.


The Cobras and Steelhawks are coming into this game fresh, with both teams coming off of a bye week. The Steelhawks are still seeking their first win halfway through the season while the Cobras are 5-2, coming off of their massive comeback against the Massachusetts Pirates, 72-65.


Two weeks ago in a close game against the Massachusetts Pirates, the Cobras came back from a 20 point deficit to win 72-65. Cobras Quarterback Charles McCullum was 18-of-38 for 240 yards, and eight touchdowns. Carolina's receiving leaders included wide receivers Tyron Laughinghouse, who had nine receptions for 111 yards and five touchdowns, and Phillip Barnett, who had five receptions for 93 yards and two touchdowns. Everything clicked for Carolina in the fourth quarter as McCullum threw three touchdowns to one interception, and the defense intercepted Pirates' quarterback Sean Brackett twice while also returning a fumble for a touchdown.


The Steelhawks may be 0-6, but they have had signs of improvement over the past few weeks. After Week 4 of the season, head coach Bob Kohler resigned, leaving the Steelhawks in chaos. Since then Lehigh Valley has signed Danton Barto to the head coach position, giving more stability to the franchise. In the Steelhawks last game, they scored a season best 38 points against the Columbus Lions defense, which has held opponents to an average of 39 points per game. Prior to this game, the Steelhawks averaged only 17.2 points per game. While the offense has had signs of improvement, the defense has not. Even after signing former Cobras defensive back Marquez Gollman, the defense has yet to make its mark in a game, allowing a league worst 58 points per game.


Carolina and Lehigh Valley square off this Saturday at PPL Center on Saturday, June 2, at 7:00 ET.


This Saturday's game will be streamed live on YouTube. For more information on how to watch the game online check out the Cobras facebook page on game day. Please visit http://www.naltickets.com/cobrassinglegame for tickets or call 336-455-7232. You may also purchase tickets by visiting the arena box office.


ABOUT THE CAROLINA COBRAS

The Carolina Cobras are members of the National Arena League (NAL). Founded in 2017, the Carolina Cobras have started their inaugural season in 2018 at the Greensboro Coliseum. Cobra Season Ticket Memberships are on sale now call (336) 445-7232 or visit carcobras.com. Follow the Cobras on Facebook at facebook.com/carcobras, twitter.com/carcobras and instagram.com/carcobras.


ABOUT NATIONAL ARENA LEAGUE
The National Arena League was founded in 2016 and hosted its inaugural season in 2017 as the premier league in arena football. The National Arena League has kicked off its second season in April of 2018. For more information regarding expansion opportunities or partnerships, contact Commissioner Chris Siegfried at chris@nationalarenaleague.com or Expansion Chairman Jeff Bouchy at jeff@nationalarenaleague.com. For more information about the NAL visit www.nationalarenaleague.com, facebook.com/nationalarenaleauge, twitter.com/NALfootball, Instagram.com/natiionalarenaleague.