News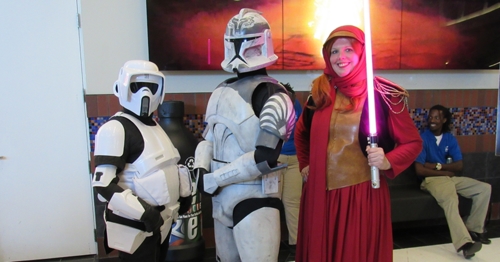 05/18/2018 3:37 PM
-
GREENSBORO- The Carolina Cobras (4-2) are set to kick off for the fourth home game of their inaugural season, Saturday, May 19, 2018 against the Massachusetts Pirates (5-1) at 7:00 pm for the much anticipated Star Wars Night. Witness two of the best teams in the NAL face off right here at the Greensboro Coliseum.


Star Wars Night
Join the Cobras as we host Star Wars Night! This week's theme is a clash between Jedis and Siths full of lightsabers, great battles, and interesting intergalactic creatures. This is your chance to meet Lord Vader. The 501st Legion will be on hand to take photos with fans. Prepare the family to battle the Death Star and the Galactic Empire.


Star Wars/Cobras Branded Limited Edition Tees
Make sure to stop by the merchandise stand to Yoda-fy your outfit with our limited edition Star Wars/Cobras Shirts!


Star Wars Halftime Show
The 501st Legion will put on a stunning Star Wars halftime show. Witness your favorite Star Wars characters perform on the field at halftime and check out lightsaber battles before the players return to the field for the second half.


FREE Jedi Lightsabers
We will be passing out lightsabers to the first 600 kids in attendance! You must be 12-and-under to receive a lightsaber as well be present at the pick up table! May the force be with you! The Cobras limit one lightsaber per child while supplies last.


BOGO Tickets
The Cobras are offering Buy One Get One Free tickets to Star Wars Night! Make sure to call 336-455-7232 or visit www.naltickets.com/cobrassinglegame to get yours! The BOGO offer will also be available at the arena box office on game day.


Single Game Tickets
Tickets start at just $11 dollars. To purchase tickets, go to the Arena box office or visit ticketmaster.com, the Arena box office hours are Monday - Friday from 11-6 and it opens at 11am on game days.


Family Four Packs
Enjoy four tickets, four hot dogs, four bags of chips and four sodas all for $95. To purchase family four packs visit the arena box office.


Parking Passes
You may pick up your season parking passes at the concourse table in section 103, passes will be available until halftime. Lanyards will also be available for those who didn't pick up last game.


Doors Open
On Saturday, the doors open at 6:00 p.m. The game kicks off at 7:00 p.m.


Cobras Team Store
Gear up with the Cobras at the Cobras team store. Enjoy brand new merchandise located between section 104 and 105. Season Ticket Holders receive a 10% discount on all merchandise items. The team store will be open for the entire game so get pick up your gear this Saturday. Don't just sound like fan, look like one!


Noise Policy
The Cobras allow cowbells (8" in height 6" in width max). Airhorns and Vuvuzela horns are not permitted into the arena. Don't like the noise? There is also be noise maker free sections. To request information on these new sections, call the Cobras Ticket Office 336-455-7232 or contact steve@carcobras.com. We will continue with the policy of fans NOT being able to bring large buckets or aerosol air horns into the Coliseum.


Cobra Nation Membership Experiences
Don't miss out on your Cobra Nation Membership Experience! Depending on your Cobra Nation Membership level, you may have chosen the Cobra Walk, Player Intro Experience, the On-Field Experience or the Cobra Locker Room Tour. Whatever the Experience you have chosen, be on the lookout for your instructions via email on how to attend your experience. Didn't get the email to sign-up for your experiences? Email reghan@carcobras.com.


ABOUT THE CAROLINA COBRAS
The Carolina Cobras are members of the National Arena League (NAL). Founded in 2017, the Carolina Cobras are playing their inaugural season in 2018 at the Greensboro Coliseum. Cobra Season Ticket Memberships are on sale now call (336) 445-7232 or visit carcobras.com. Follow the Cobras on Facebook at facebook.com/carcobras, twitter.com/carcobras and instagram.com/carcobras.


ABOUT NATIONAL ARENA LEAGUE
The National Arena League was founded in 2016 and hosted its inaugural season in 2017 as the premier league in arena football. The National Arena League will kick off its second season in April of 2018. For more information regarding expansion opportunities or partnerships, contact Commissioner Chris Siegfried at chris@nationalarenaleague.com or Expansion Chairman Jeff Bouchy at jeff@nationalarenaleague.com. For more information about the NAL visit www.nationalarenaleague.com, facebook.com/nationalarenaleauge, twitter.com/NALfootball, Instagram.com/natiionalarenaleague.