News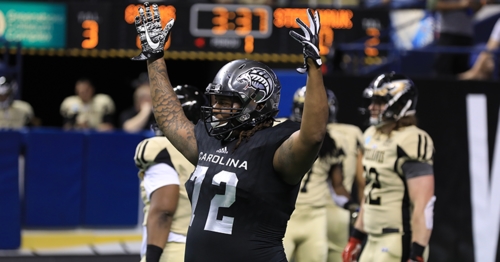 05/16/2018 1:06 PM
-
GREENSBORO- The Carolina Cobras (4-2) are taking on the Massachusetts Pirates (5-1) in the Greensboro Coliseum for their second head-to-head game this season on Saturday, May 19, 2018. The last time these two teams met in Greensboro, the Cobras ended the Pirates win streak with a score of 55-47. This past Saturday, the Cobras four game win streak was ended in a nail bitter against the Columbus Lions, who the Pirates beat in week 5.


Against the Lions last week, quarterback Charles McCullum had a slow start, but it didn't stop him from having a great game, throwing 21-of-38 for 237 yards and five touchdowns. An impressive receiver that got things started for the Cobras last week was Fabian Guerra, being McCullum's main target in the first half. Guerra finished the game with seven receptions for 73 yards. Receivers Guerra, Phillip Barnett (six receptions for 66 yards and two touchdowns), and Jordan Jolly (five receptions for 71 yards and three touchdowns) all averaged over 10 yards per catch.


Defensive back Jermaine Jones had the best game for the Cobras defensively with six tackles and one pass breakup. But when it came to the defensive line, the Cobras couldn't break the Lions offense except for a single sack by Defensive lineman Dwayne Beckford.


A major difference in this game from the last time these two teams saw each other is the quarterback situation in Massachusetts. Pirates Quarterback, Sean Brackett, was trying out for a team in the Canadian Football League and missed one week, which happened to be the first time these two teams met. Brackett has returned to the Pirates since the tryout and is looking for revenge against the Cobras.


This Saturday's game will be streamed live on YouTube. For more information on how to watch the game online check out the Cobras facebook page on game day. There will be a Buy One Get One Free Tickets which offer for all fans to attend this game to get this offer go to http://www.naltickets.com/cobrassinglegame or call 336-455-7232, you may also purchase tickets by visiting the arena box office.


ABOUT THE CAROLINA COBRAS
The Carolina Cobras are members of the National Arena League (NAL). Founded in 2017, the Carolina Cobras will play their inaugural season in 2018 at the Greensboro Coliseum. Cobra Season Ticket Memberships are on sale now call (336) 445-7232 or visit carcobras.com. Follow the Cobras on Facebook at facebook.com/carcobras, twitter.com/carcobras and instagram.com/carcobras.


ABOUT NATIONAL ARENA LEAGUE
The National Arena League was founded in 2016 and hosted its inaugural season in 2017 as the premier league in arena football. The National Arena League will kick off its second season in April of 2018. For more information regarding expansion opportunities or partnerships, contact Commissioner Chris Siegfried at chris@nationalarenaleague.com or Expansion Chairman Jeff Bouchy at jeff@nationalarenaleague.com. For more information about the NAL visit www.nationalarenaleague.com, facebook.com/nationalarenaleauge, twitter.com/NALfootball, Instagram.com/natiionalarenaleague.