News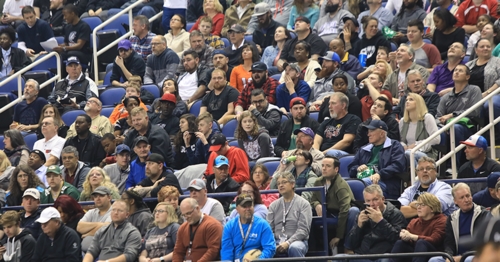 05/04/2018 5:43 PM
-
GREENSBORO- The Carolina Cobras are set to kick off for the third home game in team history. Saturday, May 5, 2018 against the Lehigh Valley Steelhawks at 7:00 pm (ET) will be Cinco de Mayo Night at the Greensboro Coliseum.


Cinco de Mayo Night

Join the Cobras as we host Cinco de Mayo Night! This week's theme is a mix of family, fun, and a grandisma fiesta. Come out in your brightest colors and biggest sombreros and make sure to stop by the merchandise stand to Cobra-ritafy your outfit on Cinco de Mayo night.


Single Game Tickets

Join the Cobras as they come off of their third win this Saturday. Tickets start at just $11 dollars. To purchase tickets, go to the Arena box office or visit ticketmaster.com, the Arena box office hours are Monday - Friday from 11-6 and it opens at 11am on game days.


Family Four Packs

Enjoy four tickets, four hot dogs, four bags of chips and four sodas all for $95. To purchase family four packs visit the arena box office.


Parking Passes

You may pick up your season parking passes at the concourse table in section 103, passes will be available until halftime. Lanyards will also be available for those who didn't pick up last game.


Doors Open

On Saturday, the doors open at 6:00 p.m. The game kicks off at 7:00 p.m.


Cobras Team Store

Gear up with the Cobras at the Cobras team store. Enjoy brand new merchandise located between section 104 and 105. Season Ticket Holders receive a 10% discount on all merchandise items. The team store will be open for the entire game so get pick up your gear this saturday. Don't just sound like fan, look like one!


Noise Policy

The Cobras allow cowbells (8" in height 6" in width max). Airhorns and VuVuZela horns are not permitted into the arena. Don't like the noise? There is also be noise maker free sections. To request information on these new sections, call the Cobras Ticket Office 336-455-7232 or contact steve@carcobras.com. We will continue with the policy of fans NOT being able to bring large buckets or aerosol air horns into the Coliseum.


Cobra Nation Membership Experiences

Don't miss out on your Cobra Nation Membership Experience! Depending on your Cobra Nation Membership level, you may have chosen the Cobra Walk, Player Intro Experience, the On-Field Experience or the Cobra Locker Room Tour. Whatever the Experience you have chosen, be on the lookout for your instructions via email on how to attend your experience. Didn't get the email to sign-up for your experiences? Email reghan@carcobras.com.


Halftime


During halftime, join us for a special competition between the Carolina Cobra fans and mascots.



ABOUT THE CAROLINA COBRAS
The Carolina Cobras are members of the National Arena League (NAL). Founded in 2017, the Carolina Cobras will play their inaugural season in 2018 at the Greensboro Coliseum. Cobra Season Ticket Memberships are on sale now call (336) 445-7232 or visit carcobras.com. Follow the Cobras on Facebook at facebook.com/carcobras, twitter.com/carcobras and instagram.com/carcobras.


ABOUT NATIONAL ARENA LEAGUE
The National Arena League was founded in 2016 and hosted its inaugural season in 2017 as the premier league in arena football. The National Arena League will kick off its second season in April of 2018. For more information regarding expansion opportunities or partnerships, contact Commissioner Chris Siegfried at chris@nationalarenaleague.com or Expansion Chairman Jeff Bouchy at jeff@nationalarenaleague.com. For more information about the NAL visit www.nationalarenaleague.com, facebook.com/nationalarenaleauge, twitter.com/NALfootball, Instagram.com/natiionalarenaleague.