News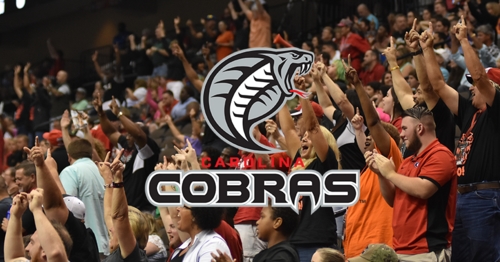 03/13/2018 2:37 PM
-
GREENSBORO – The Carolina Cobras announced today that single-game tickets for the 2018 season are now on sale. Lower bowl prices start as low as $11.00 per seat with various other price points throughout the Coliseum. A full seating map is available online at http://carcobras.com/tickets/single-game-tickets/ . Single game tickets may be purchased at the Greensboro Coliseum box office, Ticketmaster.com or by calling the Cobras ticket office at 336-455-7232.

The Cobras home opener is Saturday, April 7 against the NAL defending champion Jacksonville Sharks. This game will kick off with "Co-Bra-Ritaville." The team chose this theme night to warm Carolina up for the first-ever game in team history! Expect Jimmy Buffets greatest hits and island tunes along with a list of tiki hut fun for the fans.


"We can't wait for our inaugural season to begin and what a better way, then to kick it off with the defending NAL champs coming to the Snake Pit., it'll be a historic day for our team and great experience for our fans" said Team President Brian Cassidy. "Fans will see the value in our entertainment at prices that just simply can't be beat."


On Saturday, April 21, the Cobras will face the Massachusetts Pirates for "Country Night" presented by UNC Greensboro. Carolina Cobras camo hats will be available for sale at the game as the Cobras look for a good old fashion country brawl against the Pirates.


The Cobras return to the Snake Pit on May 5 for "Cinco De Mayo Night" against the Lehigh Valley Steelhawks. Bring your amigos and your sombreros and come to the game ready for a big fiesta! There will be plenty of music and cervezas to celebrate a victory. Ole!


On Saturday on May 19, the Cobras will host the Massachusetts Pirates for Star Wars night. Star Wars characters from the movies will be at the game and the first 1,000 kids in attendance (12 and under) will receive their own Jedi Lightsaber. The Cobras will wear fan-chosen custom made Star Wars themed jersey that will be auctioned off after the game to benefit the Veterans Ticket Foundation. (vettix.org)


On Saturday, June 9 the Cobras will host Superhero & Villians Night / Education Appreciation Night as the team will face the Jacksonville Sharks. To celebrate all teachers, administrators and school employees will receive a Buy One get One FREE ticket offer (BOGO). Children will also receive a free ticket with the purchase of a paid adult ticket. The first 1,000 kids (12 and under) who attend the game will receive a free superhero cape. The Junior Venom Dance Camp will take place on this weekend and the Jr. Venom will entertain us with a special halftime performance. There will also be special appearances from popular Superheros and Villians. Whether you're a hero or villain come watch the Cobras battle for home field supremacy.


On Saturday, June 23 the Cobras will face the Columbus Lions for Military Appreciation Night as we honor all those who have served and continue to serve in our armed forces. Active and retired Military Veterans from Carolina and their families will receive a BOGO ticket offer for friends and family. Renowned singer/artist Joe Everson will be performing and painting 3 military/Cobras themed paintings that will be auctioned off during the post-game with proceeds going to the Veterans Ticket Foundation (vettix.org).


The Cobras will return to the Snake Pit on Saturday, July 14 for Halloween in July against the Lehigh Valley Steelhawks. This entertaining theme night encourages kids and adults to join us in their favorite costumes. Additionally, the Jr. Cobras Football Camp will held in the afternoon featuring Coach Billy Back, his staff, and players.


The 2018 regular season closes with "80's / Fan Appreciation Night" on Saturday, August 4, against the Columbus Lions. We will moonwalk to the rhythm of not only a winning decade but a winning season. Bringing back big hair, neon and zebra pants, as fans will enjoy a memorable last game of the regular season.


Date Opponent Theme Time

4/7 Jacksonville Co-Bra-Ritaville 7pm

4/21 Massachusetts Country Night 7pm

5/5 Lehigh Valley Cinco De Mayo 7pm

5/19 Massachusetts Star Wars Night 7pm

6/9 Jacksonville Superhero & Villians Night 7pm

6/23 Columbus Military Appreciation Night 7pm

7/14 Lehigh Valley Halloween in July 7pm

8/4 Columbus 80's Night/Fan Appreciation 7pm


In addition to single-game tickets, both group packages and season tickets are available. Groups of 15 or more can take advantage of discounts of up to 30% off equivalent single-game tickets, subject to availability.For more information on Group Sales you can contact Kendall McCluney at Kendall@carcobras.com . Season ticket packages offer the best value, with two seats to each Cobras home game available for as low as $99. Visit www.naltickets.com/cobras to get season tickets today or visit www.naltickets.com/cobrassinglegame for single game tickets.

ABOUT THE CAROLINA COBRAS
The Carolina Cobras are members of the National Arena League (NAL). Founded in 2017, the Carolina Cobras will play their inaugural season in 2018 at the Greensboro Coliseum. Cobra Season Ticket Memberships are on sale now call (336) 445-7232 or visit carcobras.com. Follow the Cobras on Facebook at facebook.com/carcobras, twitter.com/carcobras and instagram.com/carcobras.


ABOUT NATIONAL ARENA LEAGUE
The National Arena League was founded in 2016 and hosted its inaugural season in 2017 as the premier league in arena football. The National Arena League will kick off its second season in April of 2018. For more information regarding expansion opportunities or partnerships, contact Commissioner Chris Siegfried at chris@nationalarenaleague.com or Expansion Chairman Jeff Bouchy at jeff@nationalarenaleague.com. For more information about the NAL visit www.nationalarenaleague.com, facebook.com/nationalarenaleauge, twitter.com/NALfootball, Instagram.com/natiionalarenaleague.