News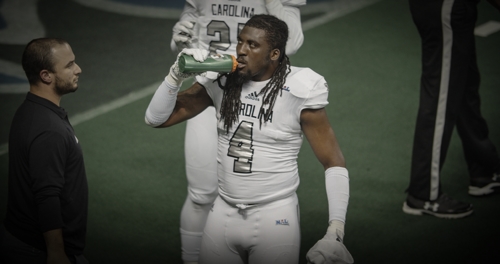 07/31/2019 4:29 PM
-
The Record Breakers
Now that the regular season is done and the Cobras get ready for their playoff game Saturday night 7pm at the Greensboro Coliseum vs the Massachusetts Pirates it is time to take a quick look at the 2019 regular season and see what NAL and team records were broken in the regular season by the 2019 Carolina Cobras.
Let's start off with the season NAL records broken by this team, and that starts with WR Jordan Jolly. In a season in which he played most of one game at QB, Jolly is now the NAL record holder for yards receiving in a season with 1,221 yards, beating the previous high of 1,085 yards by Durron Neal of the Columbus Lions last season. He set the record for receiving yards/game with 87.2, beating Rob Brown of Maine in 2018. He also tied the NAL record for receptions in season with 104, and TDs receiving in a year with 31 and certainly should be considered in the MVP race for the end of season awards.
QB1 Charles McCullum, who came into the season having never thrown a 300-yard game in the NAL threw for the NAL yardage record in a game with 346 yards passing at Orlando on 6/30 and over 300 two other times. He also tied the NAL record with nine TD passes in a game vs Orlando on 7/13.
DB Michael Green broke the NAL record for Passes defended with 44.
The team tied the NAL record for rushing defense, allowing only 15.7 yards per game.
Now to the team records:
Charles McCullum is the new rushing leader with 130 yards, beating himself from last season with 82. He also has the most rushing TDs in a year by a Cobra with 8, beating his 7 from last season. Dashawn Johnson is the leader in rushing attempts with 36, beating McCullum's 29 from last season.
Naturally with all the new NAL records for Jolly, he also holds the team records now of receptions with 104, beating Tyron Laughinghouse's 70 from last season. His 1,221 yards beats Laughinghouse from last year with 805, and the 31 TDs beats Laughinghouse and Phillip Barnett who both had 21 last season. He is also the new scoring leader with 192 points, beating out Craig "The Leg" Peterson who had 154 last season.
Michael Green is the new Cobras Interception leader with 10 this season, beating out the 8 by Cedric Poole last season, tied the record with 1 interception return for a TD, and has the record for passes defended at 44, beating his 34 from last season.
Cedric Poole has the team lead with 17 kick off returns, beating out Laughinghouse who had 15 last season and tied the team record with 1 kick off return for a TD.
Micah Robinson is now the new Cobra's sack leader with 10 sacks, beating out Steve Miller who had 9 this year, and Omari Manhertz and Dewayne Beckford who led last season with 6 sacks each. He also holds the new Cobras record in Tackles For Loss with 17, beating out Steve Miller with 13 this season, and Omari Manhertz who led last season with 8.
On the team side, the Cobras Defense was strong, allowing only 431 points after allowing 585 last year, just 30.8 points per game, compared to 39 last season. The scoring margin was 20.6 compared to 19.4 last season and the defense only allowed 2,545 yards, just 181.8 yards per game, compared to 3,412 yards and 227.5 per game last year. The rushing defense tightened up even more, allowing just 15.7 this season to 22.3 last year. Pass Defense Efficiency was 95.4, just 0.1 away from tying the NAL record, beating the 97.4 in 2018. The Pass Defense improved from 205.1 yards per game in 2018 to 166.1 yards per game and they had 13 fumble recoveries in 2019 to 12 in 2018, and the turnover margin went from +11 last year to +17 this one. The Cobras defense also allowed only 216 First Downs, to 228 last season, the third down defense cut a 41.5% success rate against them on third down to just 27.7% this year. The Defense had 36 Sacks this season compared to 33 last season.
The offense didn't slack off either and were much more efficient. They gained 6.3 yard per play compared to 6.0 last year. Pass yards per completion rose from 10.9 to 12, yards per pass went from 6.5 to 7.1 and they also improved the rushing offense to 18.2 yards per game, better than 16.7 last year. The Cobras ran the ball more, with 92 carries compared to 84, 255 yards rushing compared to 250 and 20 rushing TDs to 16. The offense controlled the ball better too, allowing only 18 Interceptions after throwing 21 last season.
Special Teams didn't get left off this list either. Improving the FG %, which to be honest is a lot of times used as a punt since there is no punting in the NAL, but the it went up to 29.4% from 28.6% last season. There were 17 FG Attempts, while last season was 14, and they made 5 this year to 4 last year. The Cobras had more Kick Returns with 27 to 23.
In the red zone both sides of the ball flourished, the offense scored on 78.1% of their Red Zone opportunities last season improved that to 84.3% this year. The Red Zone Defense allowed scores on 84.3% of chances last season, but it tightened way down to 62.2% this season.
The 2019 Regular Season ends with the Cobras with a 9-5 record, they went 10-5 last season. In both seasons they were the #2 seed going into the playoffs. Last year the Cobras won the title, and that is certainly the goal for this season too.
Speaking of playoffs, they start Saturday night at 7pm in the Greensboro Coliseum, the Cobras are hosting the Massachusetts Pirates and have we ever got the ticket offer for you. The Cobras want to Black Out the Coliseum and we need your help, so we are going to help you, help us. If I told you the most expensive ticket outside the Snake Pit Section (First two rows on the sidelines) could be had for no more than $20, would it be worth it to come check out a game? What if I said you could get front row in the end zone for just $10, as well as the majority of the coliseum? Don't believe me? Call 336-455-7232 extension 2 or you can even check out Ticketmaster to get this deal, but hurry, the seats are going fast!
Article by: DJ Wagner