News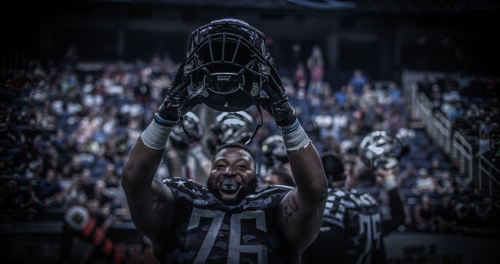 07/11/2019 8:38 AM
-
How Cobras Compare to NAL Week 13
Welcome to our weekly feature here at CarCobras.com where we take a look at how your Carolina Cobras match up to the rest of the NAL.
With a 70-28 demolishing of the Columbus Lions there were many changes in the how things look with the Cobras compared to the NAL, but first we have some other things to cover. We are 11 games into the season, but Cobra players are already setting new season highs in Carolina Cobra history.
Last Season Charles McCullum was the leading rusher for the Cobras with 29 carries and 82 yards, he has already beat that yardage total with 100. Dashawn Johnson now holds the Cobra record with 33 carries. McCullum has tied his high from last year with 7 rushing TDs.
Jordan Jolly now holds the season record for Catches (80) previously held by Tyron Laughinghouse (70), yards (1,041) also held by Laughinghouse (805), and TDs with 23, previously held by Laughinghouse and Phillip Barnett who both had 21. Right now, Jolly only needs 45 yards to break the NAL record for receiving yards for a season, set by Durron Neal of Columbus last season.
Michael Green has tied the season record for Interceptions for the Cobras with 8, which Cedric Poole did last year.
The Cobras as a team have already beat 2018 in TD Rushes with 18 (16 last season), FGs Made with 5 (4 last season) and FG Attempts with 16 (14 last season), they lead in a lot of average categories, but those will not be official until the end of the season.
Playoff Scenarios:
Currently the magic number for the Cobras to host a playoff game is down to two. So not only is it good to pay attention to what the Cobras do vs Orlando on Saturday night in Greensboro, but also keep an eye out on what Massachusetts does vs Jacksonville. If Carolina wins and the Pirates lose the Cobras will clinch a home playoff game.
How We Match Up:
Scoring changed as the Cobras moved up to #2 in Scoring offense at 51.6 points per game, behind the Sharks (55.2). The Scoring Defense is still #2 but closed the gap on Jacksonville as they now only allow 35.5 points per game compared to 32.4 for the Sharks.
The Cobras moved up to #3 in Touchdowns Scored (76), held at #3 in Offensive TDs (70), held at #2 in points scored kicking (86) and held at #2 per game (7.8)
The Cobras dropped to #3 in total offense with 246.8 yards per game as they only needed 227 yards of total offense to put up 70 against the Lions. They held at #2 in total defense giving up just 209.3 yards per game.
In the rushing game, the Cobras offense held at #4 with 17.6 yards per game but dropped to #3 in Rushing Defense allowing 18.5 yards per game. They are #3 in rushing TDs with 18.
In Pass efficiency offense moved up to #3 at 102.3 for the season after McCullum went 13-17 and 7 TDs against the Lions. The Defense held at #2 but improved from 99.1 down to 96.4.
Passing offense held #2 at 229.2. The Defense held at #2 giving up only 190.7 yards through the air.
On Special Teams, the Cobras are still #2 in Made FGs (5), #1 in FG Attempts (16), now #4 in PAT % (75.7%), up to #2 in PAT Attempts (74) and PATs Made (56). They are up to #2 in Kickoff return average (19.6), rose to #3 in Kick returns (20), and also rose to #4 in Kick Return Yards (393) and held to #2 with Kickoff Return TDs with 1.
Turnovers are key to any game, and the Cobras are causing havoc here too. They added two more turnovers against the Lions, but also gave two back. They kept the #4 slot in Interception Return Average at 7.1 and dropped to #2 in interceptions (24). They are by themselves at #1 in Interception Return Yards (171) and tied for #1 in Interception Return TDs (3). They are also #3 in Fumble Return average (27.0), moved to a tie at #1 in Fumbles returned (3), #2 in Fumble return yards (81), and #2 in Fumbles Recovered (9), and they dropped down to #2 in Turnover Margin with a +12 behind Jacksonville by 2.
In the First Down Department, they are now #3 in total First Downs with 193, #4 Rushing (22), #4 Passing (129) and now #2 By Penalty (42) and the Defense have held our opponents to 186 First Downs, which moved them up to #2 in the league.
In the Red Zone the Cobras took #1 back on Offense with an 84.8% rate of scoring, while giving up an amazing 65.1% rate on Defense, still alone for #1 in the NAL.
Now to the Players:
QB1 Charles McCullum held on to #1 in Total Offense (251.4 yards per game), still #1 in Total Offense Yards Per Play (7.4) and is now #1 in Total Offensive Yards (2,514), and also moved up to #2 in Total Offensive TDs (56). McCullum is #5 Rushing (9.7/game), #4 in Rushing yards (100) and #2 with Rushing TDs with 7. He held #1 in Passing average per game (241.7), and #5 in Pass Efficiency (102.1) which Is up to his highest rating this season, #2 in Pass Yards per Completion (13.4), #1 in Pass Yards Per Attempt (7.7), is now #1 in Passing Yards (2,417) and #2 with 49 passing TDs.
FB Dashawn Johnson is up to #4 for Rushing TDs with 6.
WR Jordan Jolly now #6 in All Purpose Yards (96.0 per game) went up to #4 in Scoring (13.1) is #3 in Scoring TDs (24), up to #3 in receptions per game (7.27), up to #1 Receiving Yards per game (94.6), #4 Yards per catch (13.0), #2 in Receptions (80) and still #1 in Receiving Yards (1,041), which is a new Season Record for the Cobras. He is now #2 with 23 Receiving TDs.
WR Von Pearson is #10 in All Purpose Yards (78.0) #7 in Scoring per game (12.3), #7 Receiving Yards per game (78.0), moved to #9 in receptions per game (6.00) and #3 in Yards per Catch (13.1).
DB Cedric Poole (20.3) is #2 in Kick Return Average, #2 with 13 Kick Returns and #3 in yardage with 264 and also has 1 of the only 4 Kick Returns for TDs in the league.
DB Mike Green is now tied #5 in the league with 0.73 INTs per game, he is #3 in INT Returns (7), #3 In INT Return Yards (81), #2 it total INTs (8) and he, Tyree Robinson and Pasquale Vacchio are all tied for #3 with an INT Return for a TD. Green is now at #3 in the league in tackles per game at 4.9 and is also #2 in total tackles at 54.0. Cedric Poole is down to #9 at 4.0 tackles per game.
Recent addition DB Robert Brown Jr is #4 with 6 total INTs (5 with Orlando, 1 with Carolina).

DL Steve Miller is now #2 in the NAL in Sacks (7.5) as well as #3 in Tackles for Loss (10.0)
DL Micah Robinson is #5 in Tackles for Loss (9.0) and MLB Sevon Pittman is at #7 with (7.5).
Green is now #2 in Passes Defended with 3.36/game, Tyree Robinson is #7 at 1.8, while Cedric Poole and Kenny Veal are tied at #8 (1.50).
So now the Cobras sit at 8-3 with three games to go in the regular season, they are very close to locking down a spot to host a playoff game, and there are many teams and NAL records on the verge of going down.
Article by: DJ Wagner