News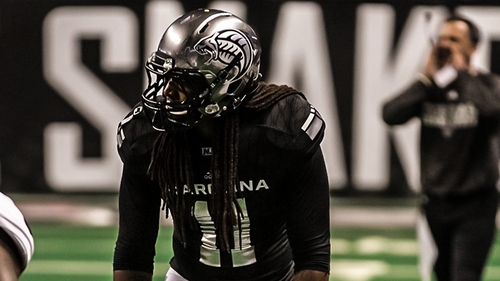 02/14/2019 8:21 AM
-
GREENSBORO - Phillip Barnett (6'2", 220), scorer of the first touchdown in Cobras history, has struck again, inking with Carolina for the 2019 season.
Barnett was productive for the Cobras in 2018, producing 644 yards and 21 touchdowns off of 63 receptions. Barnett was a big play sure-handed receiver, while being a huge goal line threat to opposing teams. He played in all but one of Carolina's 17 games including playoffs.
"Phillip always shows up in the big moments of big games, and is a guy we 100% trust will come down with the football when it's thrown his way". Coach Back stated, "This is a signing a lot of opposing teams didn't want to see, he's pretty good".
Barnett realizes the tall order of winning the championship again,"knowing we're the defending champs, and looking to repeat, everyone is going to give us their best shot."
After starting his professional football career in 2011 with the Cincinnati Commandos, Barnett has made numerous stops with coach Billy Back and his players since, playing with him and other current Cobras on the Nashville Venom of the PIFL, Texas Revolution and Wichita Falls Nighthawks of the IFL and the Tampa Bay Storm, Cleveland Gladiators of the AFL.
"Rejoining the Cobras is like a brotherhood," states Barnett. "Most of the players on the team have played together for a couple years already so timing and chemistry will already have us ahead of the other teams in the league."
Barnett is a native of Middletown, Ohio.
____________________________________________________________________________________________________
ABOUT THE CAROLINA COBRAS
The Carolina Cobras are members of the National Arena League (NAL). Founded in 2017, the Carolina Cobras are starting their second season in 2019 and were the 2018 National Arena League Champions. The Cobras play their home games at the Greensboro Coliseum. Cobra Season Ticket Memberships are on sale now call (336) 445-7232 or visit carcobras.com. Follow the Cobras on Facebook at facebook.com/carcobras, twitter.com/carcobras and instagram.com/carcobras.
ABOUT NATIONAL ARENA LEAGUE
The National Arena League was founded in 2016 and hosted its inaugural season in 2017 as the premier league in arena football. The National Arena League will kick off its third season in 2019. For more information regarding expansion opportunities or partnerships, contact Commissioner Chris Siegfried at chris@nationalarenaleague.com or Expansion Chairman Jeff Bouchy at jeff@nationalarenaleague.com. For more information about the NAL visit www.nationalarenaleague.com, facebook.com/nationalarenaleauge, twitter.com/NALfootball, Instagram.com/natiionalarenaleague.