News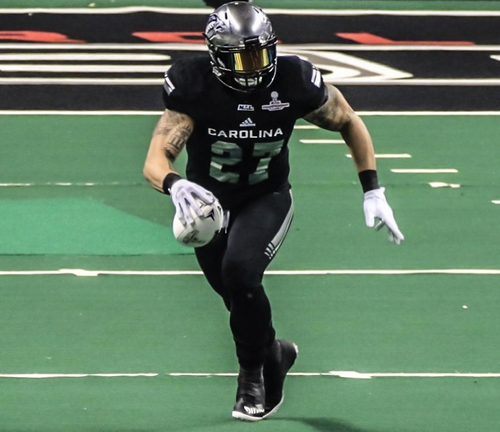 01/01/2019 6:07 AM
-
GREENSBORO - Carolina has re-signed defensive back/linebacker Pasquale Vacchio (6'1", 232)
Vacchio, a native of Breezy Hill, New York, played college football at Buffalo State. From there he started his arena football career, playing for the Cedar Rapids Titans, Spokane Empire of the IFL and the Massachusetts Pirates of the NAL through most of 2018. Before the end of the regular season, however, Vacchio was claimed by the Cobras, making a big impact on defense during their championship run.
"Adding Squale to our defense as the Jac backer and actually just adding his presence alone to our entire team made a huge difference. He fit in from day one and was a much needed football IQ on our defense." Coach Back stated.
"They treated me like family right away," Vacchio said on initially joining the Cobras. "We had good chemistry, the communication was good, and we didn't lose."
Vacchio reported that other teams around the league and in the IFL reached out to him to join their teams. "I really didn't entertain any of them except Carolina," Vacchio stated on re-signing with the Cobras.
Vacchio played in 11 games for the Pirates and four games for the Cobras, including playoffs, in 2018. He was a 1st team all NAL selection in 2018.