News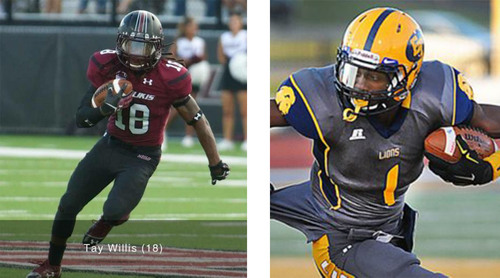 11/01/2018 7:16 AM
-
GREENSBORO - Derrick Macon (6'4", 185) and Latavious "Tay" Willis (5'8", 165) join the Cobras 2019 roster, continuing to bulk up the receiving core.
Macon, going into his second year of professional play, participated in 12 games last season for the Maine Mammoths and Lehigh Valley Steelhawks, in which he produced 199 receiving yards off 17 receptions, 173 kick-return yards off 14 returns, and 22 rush yards on 12 attempts. Macon also caught two touchdown passes during the season, both in the Mammoths' 56-42 loss to the Cobras.
"I realized I belonged [in Carolina] when we played in the snake pit," Macon says, referring to the Cobras' 78-9 blowout win over the Steelhawks last season. Macon completed Lehigh Valley's lone touchdown pass in the third quarter that game to Darryl Boggan.
Macon is a Miami, Florida, native, where he attended Miami Carol City High School. He later went on to play college football at Texas A&M-Commerce.
Willis, a rookie, is ready for his shot at the pros. "I'm looking forward to just getting back on the field," Willis expresses on his opportunity. "Growing with teammates and working towards a championship is something to look forward to."
A multi-threat, Willis attended and played football for Southern Illinois University, where he participated as a running back, wide receiver, and kick returner. Between the three positions, Willis racked up 2,386 yards in 24 games with the Salukis.
Willis is a Newnan, Georgia, native, where he attended East Coweta High School.
ABOUT THE CAROLINA COBRAS
The Carolina Cobras are members of the National Arena League (NAL). Founded in 2017, the Carolina Cobras are starting their second season in 2019 and were the 2018 National Arena League Champions. The Cobras play their home games at the Greensboro Coliseum. Cobra Season Ticket Memberships are on sale now call (336) 445-7232 or visit carcobras.com. Follow the Cobras on Facebook at facebook.com/carcobras, twitter.com/carcobras and instagram.com/carcobras.
ABOUT NATIONAL ARENA LEAGUE
The National Arena League was founded in 2016 and hosted its inaugural season in 2017 as the premier league in arena football. The National Arena League will kick off its third season in 2019. For more information regarding expansion opportunities or partnerships, contact Commissioner Chris Siegfried at chris@nationalarenaleague.com or Expansion Chairman Jeff Bouchy at jeff@nationalarenaleague.com. For more information about the NAL visit www.nationalarenaleague.com, facebook.com/nationalarenaleauge, twitter.com/NALfootball, Instagram.com/natiionalarenaleague.