News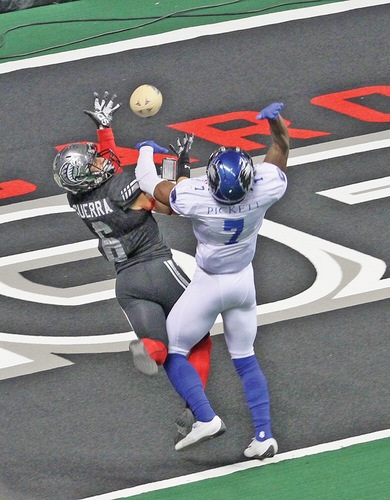 10/23/2018 7:26 AM
-
GREENSBORO - Former rookie Fabian Guerra (6'0", 200) has re-signed with the Cobras for his second year as a pro.
As a rookie, Guerra was able to make big plays for Carolina's offense, compiling 818 receiving yards and 16 touchdowns off of 70 receptions. This production helped Carolina make their way to the playoffs and eventually the championship title. "Personally I feel like I'm only going to get better," says Guerra on the upcoming season. "Having one arena season under my belt, while learning the arena style of play and learning coach Back's system, don't be surprised if Chuck is MVP and I'm Offensive Player of the Year this upcoming season."
Quarterback Charles McCullum, referred to around the locker room as "Chuck," agrees with the wideout, saying that "getting him back will be big for our success; I'm excited."
Head coach Billy Back, too, has high praises for Guerra. "Fabian Guerra came in last year and picked up the game like a vet. Not many take this as seriously as him and getting him back just adds to many matchup problems other teams are going to have with us this season. He's a playmaker who catches everything!" Back also adds, "This young man should be busy on Sundays, not sure why he isn't. But until then we are lucky to get him back in the black and silver!"
Guerra is a Miami, Florida native and played at Division II school Fairmont State University in West Virginia.