News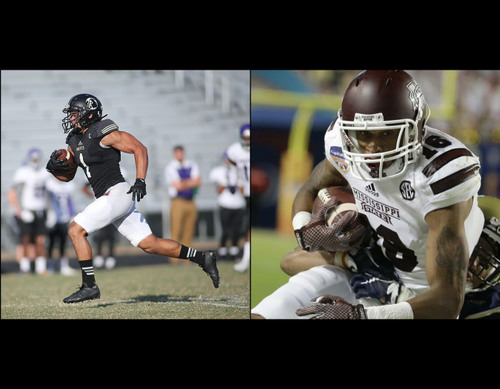 10/22/2018 9:24 AM
-
GREENSBORO - BJ Bunn (6'0", 210) and Joe Morrow (6'4", 210) have signed with the Carolina Cobras, continuing to add to the potency of the Cobras wide receiver core.
A North Carolina Native, BJ Bunn attended Western Alamance High School in Burlington, North Carolina, where he played football. Following his high school career, Bunn attended and played football for UNC Pembroke, where he amassed 3,074 receiving yards and 21 touchdowns off of 128 receptions in his 22 games active. In his senior year, Bunn was able to make it on to SportsCenter's Top 10 after his amazing one-handed grab vs. Shaw on September 17, 2016 "I plan on making catches like the one-hander that went viral in practice and games," Bunn says. While buzz went around that Bunn had the potential to be drafted in the 2017 NFL Draft, he ended up going undrafted. The receiver has made his way back onto the football scene, however, after signing with the Cobras. On that Bunn says that, "I plan on making plays for the team."
From Ocean Springs, Mississippi, Morrow played football for Ocean Springs High School, and later went on to play ball at Mississippi State. In his four year tenure at State, Morrow accumulated 708 yards and six touchdowns off of 46 receptions in 45 games. Morrow continued his football career after college, playing for different indoor and arena football teams, including the Billings Wolves of the IFL and the Wichita Force of the CIF. In his professional career Morrow has compiled 391 receiving yards and seven touchdowns off of 32 receptions in 14 games played. "I'm excited about joining and can't wait to get up there and make plays with the team," Morrow says enthusiastically. "The goal is to get back to where they were last year and that's the championship."
ABOUT THE CAROLINA COBRAS
The Carolina Cobras are members of the National Arena League (NAL). Founded in 2017, the Carolina Cobras are starting their second season in 2019 and were the 2018 National Arena League Champions. The Cobras play their home games at the Greensboro Coliseum. Cobra Season Ticket Memberships are on sale now call (336) 445-7232 or visit carcobras.com. Follow the Cobras on Facebook at facebook.com/carcobras, twitter.com/carcobras and instagram.com/carcobras.
ABOUT NATIONAL ARENA LEAGUE
The National Arena League was founded in 2016 and hosted its inaugural season in 2017 as the premier league in arena football. The National Arena League will kick off its third season in 2019. For more information regarding expansion opportunities or partnerships, contact Commissioner Chris Siegfried at chris@nationalarenaleague.com or Expansion Chairman Jeff Bouchy at jeff@nationalarenaleague.com. For more information about the NAL visit www.nationalarenaleague.com, facebook.com/nationalarenaleauge, twitter.com/NALfootball, Instagram.com/natiionalarenaleague.