News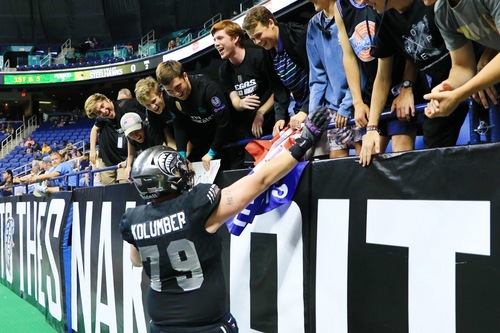 10/03/2018 11:25 AM
-
GREENSBORO – Chad Kolumber (6'7, 340) will return to the Carolina Cobras roster for the 2019 season.
With the return of starting QB, Coach Back has to work on rebuilding his offensive line, and it's starting with veteran Kolumber, "Big Chad changed the way out OL played when he made the move from Center to Right Guard. He was damn near dominate the last 6 games of the season with his size and strength keeping defensive linemen out of the back field. He's a great locker room guy and teammate."
Kolumber played with the Colorado Crush of the IFL in 2017, starting in six games he helped lead the Crush offense to 880 rushing yards, 2,185 passing yards and 39.3 points per game. Kolumber spent his rookie season with the Iowa Barnstormers as a right guard in 2016. During his time with the Barnstormers he started in eight out of eleven games helping Iowa to 893 rushing yards, 3,523 passing yards, 34 total rushing touchdowns and 46.1 points per game.
Prior to his professional career, Kolumber began his college football campaign at the University of Kansas and played there from 2010- 2011. While he was redshirted as a freshman, Kolumber played in five games during the following season. In 2012, Kolumber transferred to the University of Richmond where he was named to the 2012 CAA Football All-academic Team.
Chad Kolumber grew up in Norristown, Pennsylvania where he played football at Woodberry Forest High School. There, he earned First-Team All-State, All-Prep League Honors, a three-year letterman, and helped the school to two VISSA Prep League Titles. He also wrestled in high school, registering a school record for fastest pin in eight seconds.
ABOUT THE CAROLINA COBRAS
The Carolina Cobras are members of the National Arena League (NAL). Founded in 2017, the Carolina Cobras just finished their inaugural season in 2018 and were the 2018 National Arena League Champions. The Cobras play their home games at the Greensboro Coliseum. Cobra Season Ticket Memberships are on sale now call (336) 445-7232 or visit carcobras.com. Follow the Cobras on Facebook at facebook.com/carcobras, twitter.com/carcobras and instagram.com/carcobras.
ABOUT NATIONAL ARENA LEAGUE
The National Arena League was founded in 2016 and hosted its inaugural season in 2017 as the premier league in arena football. The National Arena League will kick off its second season in April of 2018. For more information regarding expansion opportunities or partnerships, contact Commissioner Chris Siegfried at chris@nationalarenaleague.com or Expansion Chairman Jeff Bouchy at jeff@nationalarenaleague.com. For more information about the NAL visit www.nationalarenaleague.com, facebook.com/nationalarenaleauge, twitter.com/NALfootball, Instagram.com/natiionalarenaleague.