News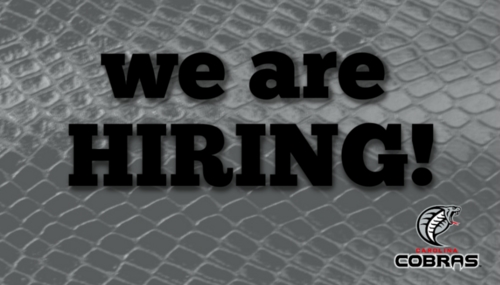 10/02/2018 10:52 AM
-
GREENSBORO – The Cobras are seeking qualified candidates looking to pursue a career in multimedia and social media. You must live in Greensboro, or be able to commute to The Greensboro Coliseum every day. Candidates must be able to travel with the team during all away games, attend all community appearances, home games. Candidates must be willing to work long hours, including possible holidays and weekends. Also to be qualified you must have your own camera!
DUTIES:
Hiring of all social media, multimedia and graphic design interns
Develop team news stories, social media content, run press conferences, and oversee game day media packages
Maintain and organize the website -- carcobras.com
Run all team social media accounts -- Facebook, Instagram, Twitter, Snapchat, etc.
Creating infographics for use on team's social media platforms
Produce video packages covering team's community appearances and events
Create highlight videos for use in team presentations
Write and develop all press releases, program stories
Maintain team's library of video footage and photographs
Facilitate any team media needs for locals new stations and broadcast teams.
Create all graphical assets to be used in the arena during the Cobras Season

Dasher Pads
Jumbotron
Ribbon Boards

Designing posters, flyers and other promotional marketing materials

Game Programs
Team Posters (both Venom Dance Team and Cobras Football Team)
Game Notes
Flip Cards

Preparing graphical presentations for potential corporate partners
Work closely with sponsors to make sure all digital artwork is approved
Work closely with the Greensboro Coliseum to make sure all formatting is ready for game-day.
REQUIREMENTS:
Degree in Journalism, Communication, Graphic Design, or other related fields.
Experience with video editing software (Final Cut Pro).
Adobe Creative Suite design and desktop publishing software

Photoshop
Premier
After effects
If you are applying for this position please contact tia@carcobras.com -- Please include at least 3 design samples, 2 writing samples, cover letter, and resume.

ABOUT THE CAROLINA COBRAS
The Carolina Cobras are members of the National Arena League (NAL). Founded in 2017, the Carolina Cobras just finished their inaugural season in 2018 and were the 2018 National Arena League Champions. The Cobras play their home games at the Greensboro Coliseum. 2019 Cobra Season Ticket Memberships are on sale now call (336) 445-7232 or visit carcobras.com. Follow the Cobras on Facebook at facebook.com/carcobras, twitter.com/carcobras and instagram.com/carcobras.
ABOUT NATIONAL ARENA LEAGUE
The National Arena League was founded in 2016 and hosted its inaugural season in 2017 as the premier league in arena football. The National Arena League will kick off its second season in April of 2018. For more information regarding expansion opportunities or partnerships, contact Commissioner Chris Siegfried at chris@nationalarenaleague.com or Expansion Chairman Jeff Bouchy at jeff@nationalarenaleague.com. For more information about the NAL visit www.nationalarenaleague.com, facebook.com/nationalarenaleauge, twitter.com/NALfootball, Instagram.com/natiionalarenaleague.