News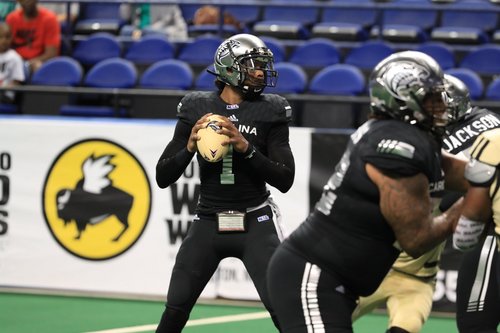 10/02/2018 9:50 AM
-
GREENSBORO – The Carolina Cobras are entering their second season in 2019 and are excited to announce the return of Quarterback Charles McCullum.
During McCullum's (6'2", 205) first season in the NAL and as the QB of the Carolina Cobras during their inaugural season, McCullum lead the Cobras to the 2018 National Arena League Championship victory over the Columbus Lions. McCullum also lead the league in total offensive yards (3392) and total offensive touchdowns (94).
"Getting the Captain and one of the major vertebrates to the offensive backbone was the first priority this offseason, now we can start our building process and add to it. Charles is always 3 steps ahead of whatever and whoever's defense we are playing against and his competitive drive and work ethic is contagious to other young and veteran players," Head coach Billy Back said of his QB. "He's a leader, a worker, and watching him get better and better each season has been very rewarding and something that has been a pleasure to be a part of. We are looking forward to what he does in 2019!"
Prior to the Cobras, McCullum spent last two seasons with the Wichita Falls Nighthawks, recording 6,008 passing yards for 87 touchdowns, 408 rushing yards and 23 touchdowns, and was named IFL's MVP for both the 2016 and 2017 seasons. He spent two seasons with the Nashville Venom (2014-2015) where he led Nashville to back to back playoff appearances and to the league championship game in 2015. Prior to the Venom, McCullum played for the Cedar Rapid Titans from 2012 to 2013, helping Cedar Rapids to a 2013 United Conference Championship after recording 30 touchdowns and completing 109 of 190 passes in 10 games. McCullum began his pro career in 2010 with the Kent Predators and Seattle Timberwolves where he spent two seasons (2010-2011), During time with the Timberwolves his recorded 1,907 passing yards and 45 touchdowns, and 687 rushing yards and 19 touchdowns. 
Before McCullum entered his professional football career, he played his freshman season at FAMU where he played in five games, recording 42 passes for 203 yards a touchdown and 54 rushing yards. He was the first freshman quarterback to bring FAMU to victory over Tennessee State in 25 years. McCullum finished his college career at Stillman College. As a sophomore, he passed for 1,470 yards with 11 touchdowns and four interceptions while rushing for 308 yards. During his junior year, he recorded 2,103 passing yards with 18 touchdowns and seven interceptions, and 330 rushing yards.
Charles McCullum is a native of Atlanta, GA, where he started at Frederick Douglass High School. He was a part of a football program that helped produce NFL players like Jamal Lewis and Ahmad Carroll.

ABOUT THE CAROLINA COBRAS
The Carolina Cobras are members of the National Arena League (NAL). Founded in 2017, the Carolina Cobras just finished their inaugural season in 2018 and were the 2018 National Arena League Champions. The Cobras play their home games at the Greensboro Coliseum. Cobra Season Ticket Memberships are on sale now call (336) 445-7232 or visit carcobras.com. Follow the Cobras on Facebook at facebook.com/carcobras, twitter.com/carcobras and instagram.com/carcobras.
ABOUT NATIONAL ARENA LEAGUE
The National Arena League was founded in 2016 and hosted its inaugural season in 2017 as the premier league in arena football. The National Arena League will kick off its second season in April of 2018. For more information regarding expansion opportunities or partnerships, contact Commissioner Chris Siegfried at chris@nationalarenaleague.com or Expansion Chairman Jeff Bouchy at jeff@nationalarenaleague.com. For more information about the NAL visit www.nationalarenaleague.com, facebook.com/nationalarenaleauge, twitter.com/NALfootball, Instagram.com/natiionalarenaleague.