News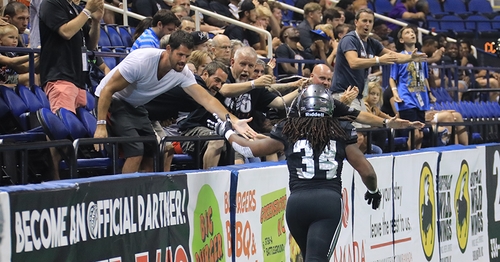 08/03/2018 2:11 PM
-
GREENSBORO – The Carolina Cobras announced the launch of their Cobra Nation Membership Program for the 2019 season. The program is designed to provide exclusive benefits to the team's loyal fans and start as low as two season tickets for the price of $99.

"On the field, the Cobras are in the playoffs and vying for the NAL Championship in only their first season," Cobras Executive Vice President Steve Curran said. Off the field, we've listened to our fans and have made a few adjustments to our season membership map. We think these changes will be an even better value for our members. We have been about "family affordable fun" since beginning the team and now we are just taking the "affordable" to another level."

Cobra Nation Memberships are divided into four tiers - Diamond, Red, Black and White, corresponding to different seating locations at the Greensboro Coliseum. All Cobra Nation Memberships include season tickets, including the First Round Home Playoff game (if applicable), access to the Never Wasted Ticket Exchange Program, discounts on Cobras merchandise, a Cobras
Welcome Mat and exclusive fan experiences. 2019 Cobras Nation Memberships experiences include a Locker Room Tour, Chalk Talk with Coach, On-Field experience, Player Introduction Experience as known as Cobras Walk and a discounted bus trip to an away game. Cobra Nation Members will be allowed to choose an experience of their choice or may choose multiple experiences based on their Cobra Nation Membership level.

For more information about season tickets or Cobra Nation Memberships, please call the Cobras Membership activation office at 336-455-7232 or visit carcobras.com.

ABOUT THE CAROLINA COBRAS

The Carolina Cobras are members of the National Arena League (NAL). Founded in 2017, the Carolina Cobras played their inaugural season in 2018 at the Greensboro Coliseum. 2019 Cobra Season Ticket Memberships are on sale now call (336) 445-7232 or visit carcobras.com. Follow the Cobras on Facebook at facebook.com/carcobras, twitter.com/carcobras and instagram.com/carcobras.