News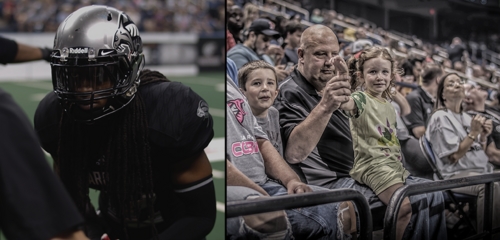 07/05/2019 9:31 AM
-
Ready to renew your Season Tickets for 2020? Want to get Season Tickets?
Why should you go to a Carolina Cobras game?
---
Well let me tell you a bit about the fan experience with the Carolina Cobras. This is coming not just as a writer for the Cobras but as a two-year season ticket holder myself.
First off you want to get to the Coliseum early, go drive around the backside and you can see canopies set up with the Carolina Cobra Tailgate Crew. Hang out with fellow Cobra fans before the game, everyone is friendly, has a great time and who doesn't like to tailgate before football?
Next thing you want to do is to go in when the doors open. Grab your program on your way in and get your goodies. I know you are saying, but the game doesn't start until 7pm, but if you go in early, you can typically get in to watch your Cobras warming up, this is a good time to get a high five and interact with the players as they are warming up on the field, not to mention the music is pretty good and it gets you fired up for the game. When the team goes back before intros, go up and get you something to eat and drink, especially drinks because you are going to need your voice, we want you LOUD!!
When the lights go out it is time to get loud, as we welcome our 2018 NAL Champions to the field. Then it is time for the National Anthem and then the coin toss, then the game is on. It is wild, it is fast, and if the ball goes into the stands, you get to KEEP IT!!! The players are great handing out high 5's and depending on where you are sitting you may even end up with one of them in your lap.
All kinds of promotions happen during the course of the game, of course there are contests on the field, and you never know when a t-shirt is going to fly your way. So unlike that league with the shield, there isn't a lot of dead time in the NAL, and while it can be fun to watch on TV or YouTube it is even faster and more exciting in person. They are playing football in what is basically a football field in a hockey rink, and yes, the boards come into play early, and often. It is 50-yard football at its fastest speed possible.
Oh but wait there is more...
When the game is over you can head down on the field and actually meet the players as there is an autograph signing after every game, and it isn't one of those one player things, it is probably half the team or more, as well as some of the Venom Dance Team. So if you get that ball during the game, or if you want your Cobra's hat or t-shirt signed, they will gladly do it. If you have kids, they can run around on the field and play in the same place they just saw someone score a TD, or in the case of the arena game, many touchdowns.
So why should you renew for 2020 now?
If you do it now you will get extra tickets to regular season games left on the schedule this year absolutely FREE!! Were you a Season Ticket holder in 2018 and not able to make it back? Well if you get Season tickets for 2020, you can get tickets to the rest of the regular season home games this season too!!!! Never been to an arena game before, well then come check us out, I haven't met a person yet who told me after the game that it wasn't worth the money for what you get, and with the game Saturday being Military/First Responders night, if you have served in the Military, or currently serve, or if you are a first responder, we want to give you 50% off your seats.
All you have to do is call 336-455-7232 ext 2 and ask for Brandon. Tell him where you heard about it, and we look forward to seeing you at the Snake Pit!
Article by: DJ Wagner