News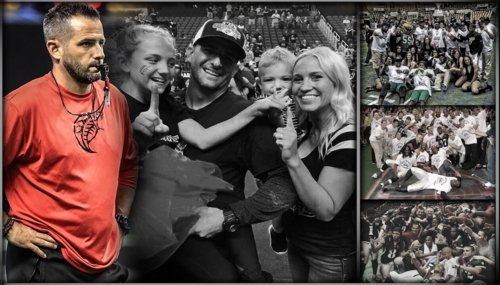 06/10/2019 6:05 AM
-
Coach Back Wins 100
With a 52-41 win versus the NY Streets it not only took the Cobras to 6-2 on the year, it took Coach Billy Back to 100 overall wins as a head coach (100-36 0.735 5 Championships). The Cobras are proud to take a look at the 100 wins, as it is a huge milestone for coaching. For example in the NFL there are only 46 coaches with 100+ wins in their 100 year history. For a closer example, in the AFL only six coaches have broken that mark in their 32-year history.
Coach Back got his start as a head coach with the Cincinnati Commandos in 2010, and what a start it was. His first season as a coach he went 9-1 in the regular season and won both playoff games to finish the season at 11-1 and get crowned CIFL Champions. Then in 2011 he one upped himself, this time leading Cincinnati to a 10-0 regular season record and again won both playoff games to go 12-0 and repeat as CIFL Champions. In 2012, the Commandos moved to the UIFL, yet the results were the same, that year they went 10-2 in the regular season and won both playoff games, to finish 12-2 and become UIFL Champions, his third title in three years. Not a bad start at all. After a one year stop in Texas with the Revolution of the IFL where he went 5-9 (his only losing season in 10 seasons), he moved to Nashville and coached the Venom for two years. In 2014 they went 10-2 in the regular season and won both playoff games to win the PIFL Championship, finishing the season 12-2. He made it to 50 wins in only 64 games. In 2015 with the Venom they went 7-4 in the regular season but lost their opening playoff game to finish the season 7-5. His next move was to Wichita Falls (TX) Nighthawks, going 11-5 in the 2016 regular season and after a loss in the playoffs finished at 11-6, then the next season went 12-4. That next move was to the NAL and the Carolina Cobras, where last year the Cobras went 10-5 in the regular season, won both playoff games and won the NAL Championship, finishing 12-5 for the season.
Coach Back has built a tradition of where he goes, winning follows. But there is more to it than that. QB Charles McCullum talking in 2017 about a coach being responsible for everyone's success said "That is what he instills in us. His belief in our team makes us go. Billy wouldn't bring you here if he didn't think you had what it takes to make our team run smooth. It is just like having a father figure and an older brother balled up into one. A lot of people will never run into that, when you get that it is very special and he treats everybody on the team the same way. Even the coaches, he treats them like brothers, they are like one big happy family and we really mean that word when we say "Family on three", we really mean family."
DL Walter Thomas Jr had this to say "He's a guy that knows how to push the right buttons when he wants you to get mad and play hard. We have turned into a family over the past six years."
Defensive Captain and DB Mike "The General" Green said this "Billy is a great coach, no doubt about it. Knows the game like the back of his hands. He can coach just about anybody in his system. He makes players great and want to play for him. Not only is he a great coach, but a great man as well, and he looks out for his players. He doesn't just win because he is a great coach, he wins because he is a great man."
Craig "The Leg" Peterson, former Special Team Player of the Year for the Cobras, now kicker for the Columbus Destroyers of the AFL. "When Billy asked me to come to the Cobras I was excited, but also wanted to make sure I was ready because I knew what he was going to expect out of me. After earning Special Teams Player of the Year and breaking several records he told me that he didn't just sign me because I'm a consistent kicker, he told me it was my character as a person and a player that he liked even more. That always stuck with me because the good coaches know how to build a great team from the bottom up and it's not just about getting great players, it is about finding the guys that have the mental game, along with the cohesiveness to play together. He is a player's coach and even though Billy isn't a kicking coach by any means, he trusted in me that I would put the work in that I needed to do to be able to come in and perform on game days. That meant kicking outside of practice and working together with my holder and snapper. Great guy, great coach, but also a good judge of character."
Toni Pulu who played for the 2018 NAL Champion Cobras said "I will say this, he's a great human being and a great coach. His unique personality and style of coaching makes it easy for players to buy in and want to play for him and win. I've played for him with two different teams and no matter where it is his winning mentality follows and spreads like crazy. There's no better feeling than breaking the huddle after whooping on a team with "and they say winning ain't everything?...." Ha ha I'm pretty sure you know the rest."
OL Chad Kolumber "Big thing for me with Coach Back is that he really treats us like men and professionals. Everything is a business trip for us and he gives us the freedom to do what we want, but trusts and expects us to be smart and make the right decisions. I respect that a lot because a lot of coaches say it, but he actually follows through."
DB Ken Walton II said this after the 100th win "The one thing I would say about him is he's just an all-around stand up guy. He's a straight shooter and just doesn't beat around the bush with you. That is why I continue to play for him for my fifth year. I know he is going to give it to me straight, good or bad, and you have to respect a man like that, especially a coach."
The player who has probably been with him the longest and current WR for the Washington Valor of the AFL Phillip Barnett had this to say. "Coach Back is an incredible coach and an even better person. I've been with him everywhere he has coached. He is actually the reason I'm in arena football now, and I won many championships with him. Actually, his first championship I wasn't with him in Cincinnati, but I came in the next season for two championships and then went to Dallas (Texas), Nashville, Wichita Falls and then Carolina. He is a great player's coach and it was definitely the most fun I've had playing arena football was with him."
Tyron Laughinghouse, current WR for Atlantic City Blackjacks in the AFL said "Coach Back is one of the best coaches who is coaching in arena football. Every team I've been a part of we've had a winning record, on top of our last year's championship. His favorite line to me is "You're just soft." naw coach, I just play hard and put my body on the line for you. Just want to leave this last message for him. My final year playing arena football will be with Coach Billy Back." Breaking News!!
Former player Corry Stewart said "Coach Back plays a major role in my life. From day one when we met at a mini camp for the Cincinnati Commandos, his energy and passion for the game is like no other! I thought he was going to cut me at one point, but he kept faith in me and pushed me every day. Good mentor when it came to taking care of your business and being a professional. Best thing about him, he is an equal opportunity butt chewer, anybody can get it at any time. Coaches, players, refs, fans, etc. it doesn't matter. He puts his heart and soul in the game and that's why I always wanted to play for him in Arena and no one else. Billy is family, and always will be."
Speaking of famous Coach Back quotes:
From Brandon Sutton: "Hey men, you don't practice on Tuesday, don't expect to play on Saturday."
From Charles McCullum: "I don't want the labor, just deliver the baby!"
From Tyron Laughinghouse: "The day before the day before."
But it isn't just the players that love him.
Former coaching rival, and now assistant coach at Albion College, Ameer Ismail said after victory #100 "Congrats Billy on a wonderful coaching career and reaching 100 wins. Wow, what an awesome feat. So proud of you brother. Since 2012, while I was still dominating on the field and you were coaching with the Revolution our paths have crossed almost every year on opposite sidelines. First as a player, then as a coordinator, and then as opposing Head Coaches last year (Massachusetts Pirates). You've been a great friend and mentor over the years and win or lose we always got a mutual respect hug at the end and a laugh. Almost got to coach together this season but wouldn't have been fair for any arena/indoor team at any level lol. You are the man and thanks for all you've done for this game. Love you man."
Brandon Robinson, Director of Ticket Sales said "He's always thinking three steps ahead, from the off-season preparation, to executing those plans with necessary adjustments along the way. I wouldn't be surprised if he reaches 200 wins before he hangs up his whistle. Best head coach in any arena league, hands down."
Current Defensive Coordinator Josh Resignalo said "Almost had the opportunity to work with Coach Back for the 2018 season. After I left High Country (NAL) I spoke with Coach Back a couple times about possibly coming to the Cobras, as I didn't want to leave the NAL. We couldn't get everything worked out and I ended up going to the Atlanta Havoc (AAL), where I was the GM and Offensive Coordinator. Going into the 2019 season Coach Back and I had a few more conversations and he had worked things out to offer me a position on his staff. I never wanted to leave the NAL, so to have the opportunity to work with Coach Back was a no brainer, so I accepted. Coach Back is a well-respected coach in our game and he has been very successful at what he does. For me personally, this has been a great experience and definitely has me growing as a coach. As coaches we must be willing to remain students of the game and learn as much as possible to be better leaders for our players and communities. I have coached as long as Coach Back, but have only won one championship. As Coach Back has won multiple championships (five). I have learned a lot in the short time we've worked together and most of all, I am excited to grow as a coach, while going to battle side by side with a coach like Coach Back. I haven't even mentioned the fact of him hitting his 100th win as a Coach, which is a remarkable feat in itself. The type of man and coach that Billy is, speaks for itself, as he hasn't even mentioned closing in on 100 wins. I wasn't even aware of that until being asked what I thought about him and that accomplishment."
This is probably the best endorsement you will see about Coach Back. VP of Business and former Cobras Defensive Coordinator Brian Schmidt had this to say "Actually when me and Billy met, we actually coached against each other. We were competing for the same people. Him and I talked a few times but as the years went on, the more him and I talked, the more we went from coaching acquaintances to friends. When I was with the Iowa Barnstormers, Billy had talked to me about coming to Wichita Falls to be the Defensive Coordinator. He hadn't really gotten back to me and I was offered Defensive Coordinator and front office spot with Tri-Cities. The day I signed my contract with them later that day Billy called me to be his Defensive Coordinator for Wichita Falls. Well the situation with Tri-Cities wasn't the best so I left Tri-Cities. I was in Idaho on the way back to Ohio and was in a hotel when Billy called and asked me if I wanted to come to Wichita Falls and help with the playoff push. So, I made a right turn from Idaho and went south to Texas. From there on we were friends and became family.

I have had head coaching opportunities, but they weren't the right situation, and Billy, Stacie and the kids are my family now. When he was with Cincinnati he was one of the most hated coaches around, but that happens with success. (Coach Back went 35-3 in 3 years in Cincinnati with 3 Championships) Bottom line, he is the best coach in arena football, and he should be, by all rights, in the Arena Football League, he should be coaching even higher. He is the best coach in any of these leagues by far. I will put myself at a close second but I will give him the top spot. We have known each other for 12 years, and have been very close for the last six years, and that is the frustrating thing for me, he should be coaching at a higher level, there are coaches out there that deserve the opportunity, and he is certainly one of them."

The final word is probably the most important word as it is from the person who has been with Coach Back from the start. We lovingly call her the Co-Head Coach of the Cobras, Billy's wife Stacie Back "One of Billy's biggest quotes is 'tough times don't last, tough people do.' I have been with him from the beginning! He has wanted to coach his whole life and he is doing it! Many people have dreams, but not many people actually go for it and accomplish it! I'm proud to know and be married to someone that has. The season is hard at times. I miss him, the kids miss him, we have to adjust to sharing him with 30 dudes. Winning is fun! Winning Championships well… I'm sure you have seen footage of Billy. After the 2018 NAL Championship he was up until 5am on Facebook Live carrying the trophy around, eating McDonalds hot cakes. His signature dance move is probably the worm, when he's feeling it. I will never forget when he flipped the table in the locker room at a Commandos game and it came back and cut his shin open... But I would not trade these moments or memories for anything. Except the weeks we lose, I'd definitely trade places with someone during those weeks."
So through 100 wins this is abundantly clear. The people who have played and coached with him have not only respected him, but love him. We at the Cobras are lucky to be able to honor such an amazing man and Coach for his 100 victories and we look forward to the next 100.
Written by: DJ Wagner