News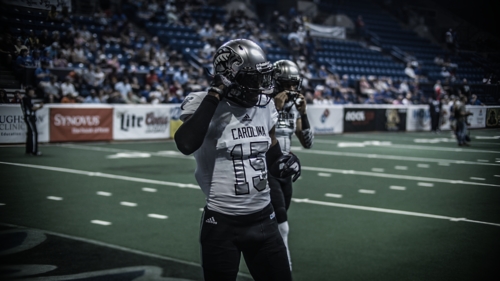 06/05/2019 6:20 AM
-
How Cobras Compare to NAL 'Week 8'
Welcome to our new weekly feature here at CarCobras.com where we take a look at how your Carolina Cobras match up to the rest of the NAL.

After a great 52-43 win over the Columbus Lions Saturday night, the Cobras showed improvement in a lot of categories after scoring on 8 of 8 drives offensively in the game.
Scoring is still the same as the Cobras are #2 in Scoring offense at 51.0 points per game, behind the Streets at 52.2. The Scoring Defense is also #2 at 37.3 points per game but are closing the gap with Jacksonville for the #1 spot.
The Cobras are #1 in Touchdowns Scored (48), #1 in Offensive TDs (43), as well as #1 points scored kicking, both total (57) and per game (8.1)

After racking up 291 yards of total offense, and only giving up 192 against the Lions, the Cobras have moved up to fourth in total offense with 229.1 yards per game. They are third in total defense giving up just 218.3 yards per game.
In the rushing game, the Cobras offense is #3 with 20.4 yards per game and #2 in Rushing Defense allowing only 15.6 yards per game. They lead the league in rushing TDs with 12.
In Pass efficiency offense they are currently #5 but climbing as they got over the magical 100 mark at 100.3 for the season, for the first time since week 3 against the Streets. The Cobras Defense clamped down and got their opponents under the magical 100 mark, now sitting at 99.2 and #2 in the league.
Passing offense is another spot where both sides are making great progress in the standings. The are up to #4 in Pass Offense at 208.7 yards per game. The Defense is #3 giving up only 202.7 yards through the
air.
On Special Teams, the Cobras are #2 in Made FGs (4), #1 in FG Attempts (11), up to #3 in PAT % (74.5% after a 7-7 showing by new kicker Brandon Rutherford), #1 in PAT Attempts (47) and PATs Made (35). They are also #1 in Kickoff return average (20.8), #4 in Kick returns (16), #1 in Kick Return Yards (333) and tied at #1 with Kickoff Return TDs with 1 (Thanks Cedric Poole).

Turnovers are key to any game, and the Cobras shine in this category too. #4 in Interception Return Average at 10.7, but #1 in Interceptions (15), Interception Return Yards (160) and Interception Return TDs (3). They are also #3 in Fumble Return average (25.5), tied for #1 in Fumbles returned (2), #1 in Fumble return yards (51), and #1 in Fumbles Recovered (6), and they also lead by 5 in Turnover Margin
with a +9 despite not generating a turnover in the last two games.

In the First Down Department, they are #2 in total First Downs with 131, #2 Rushing (16), #3 Passing 79 and #1 By Penalty (36) and the Defense have held our opponents to just 115 First Downs, good enough
for #4 in the league.

In the Red Zone the Cobras lead big on both sides of the ball, #1 on Offense with a 90.3% rate of scoring, while giving up an amazing 64% rate on Defense, naturally #1 in the NAL.

Now to the Players:
QB1 Charles McCullum is #2 in Total Offense (230.8 yards per game), #2 in Total Offense Yards Per Play (6.4), #2 in Total Offensive Yards (1,317), #3 in Total Offensive TDs (32), as well as #3 Rushing (11.3/game), #3 in Rushing yards (68), tied for #3 with Rushing TDs with 4. He is also #3 in Passing average per game (219.5), #6, and climbing in Pass Efficiency (99.3), #1 in Pass Yards per Completion (12.0), #2 in Pass Yards Per Attempt (6.5), #3 in Passing Yards (1,317) and tied for #2 with 28 passing TDs.

FB Deshawn Johnson is #9 in Rushing Yards with 28, and tied for #6 for Rushing TDs with 3.

WR Jordan Jolly is #7 in All Purpose Yards (85.1 per game) #3 in Scoring (13.7) #1 in Scoring TDs (16), #5 in receptions per game (7.29), #5 Receiving Yards per game (83), #6 Yards per catch (11.4), tied at #1 in
Receptions (51) and #3 in Receiving Yards (581). He is tied for #1 with 15 Receiving TDs.

WR Zack Ducker is #9 in Receptions (34) and #10 in Receiving Yards (324).

DB Cedric Poole (21.0) is #3, while WR Prince Shonola (20.5) is #4 in Kick Return Average, while Poole also has 1 of the only 2 Kick Returns for TDs.

DB Mike Green is #4 in the league with 0.71 INTs per game, he is tied for #1 in INT Returns (5), #1 In INT Return Yards (76), tied for #1 it total INTs (5) and he, Tyree Robinson and Pasquale Vacchio are all tied
for #2 with an INT Return for a TD. Green is also #2 in the league in tackles per game at 5.5, and is #1 in total tackles at 38.5. Cedric Poole is #8 at 4.5 tackles per game.

DL Walter Thomas Jr may be on IR, but he is still #2 in the league in sacks with 4.0.

DL Micah Robinson is #3 in Tackles for Loss (6.0), MLB Sevon Pittman is #6 with (4.5) and Walter Thomas Jr #8 with 4.0.

Green is #2 in Passes Defended with 4.14/game, while Cedric Poole is #6 (2.20), Tyree Robinson is #9 with 1.67, and Ken Walton II is #10 with 1.60.


The most important stat is five wins, against two losses and only a half game back for the lead in the NAL, with seven regular season games to play. Next game is Saturday at 3pm at the New York Streets. You do not want to miss a minute of the action with Carolina Cobras Football!!

Article by: DJ Wagner