News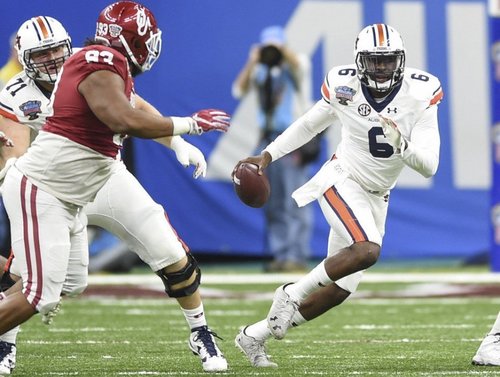 02/06/2019 6:00 AM
-
GREENSBORO - Cobras add an athlete, Sign Former Auburn QB Jeremy Johnson.
Cobras have signed former Auburn Tiger and Columbus Lion Jeremy Johnson (6'5", 230) at Wide Receiver.
Johnson, after Lion's quarterback Mason Espinosa went down due to injury last season, took the reins and led the Lions to the NAL Championship game, where they subsequently lost to the Cobras. While in Espinosa's stead, Johnson's biggest game came in the first round of the playoffs last year at Massachusetts, where the underdog Lions came in and beat the Pirates 50-36 to secure a berth in the championship game. Johnson completed 79% of his passes for 234 yards and a score, while also rushing for four touchdowns.
"Jeremy is a big athlete where, when used in the correct way, will be a very dangerous weapon for us," Coach Back says. "We have some packages that we used in previous leagues that will showcase all of Jeremy's attributes. He's a team player coming in to be a weapon at receiver but also willing to be utilized as a jack linebacker and wherever else he's needed at."
Prior to signing with the Cobras, Johnson has participated in the New York Giants rookie minicamp and the Saskatchewan Roughriders practice squad. He played football for George Washington Carver High School in Montgomery, Alabama, and later went on to play football for the Auburn Tigers.

ABOUT THE CAROLINA COBRAS
The Carolina Cobras are members of the National Arena League (NAL). Founded in 2017, the Carolina Cobras are starting their second season in 2019 and were the 2018 National Arena League Champions. The Cobras play their home games at the Greensboro Coliseum. Cobra Season Ticket Memberships are on sale now call (336) 445-7232 or visit carcobras.com. Follow the Cobras on Facebook at facebook.com/carcobras, twitter.com/carcobras and instagram.com/carcobras.
ABOUT NATIONAL ARENA LEAGUE
The National Arena League was founded in 2016 and hosted its inaugural season in 2017 as the premier league in arena football. The National Arena League will kick off its third season in 2019. For more information regarding expansion opportunities or partnerships, contact Commissioner Chris Siegfried at chris@nationalarenaleague.com or Expansion Chairman Jeff Bouchy at jeff@nationalarenaleague.com. For more information about the NAL visit www.nationalarenaleague.com, facebook.com/nationalarenaleauge, twitter.com/NALfootball, Instagram.com/natiionalarenaleague.