News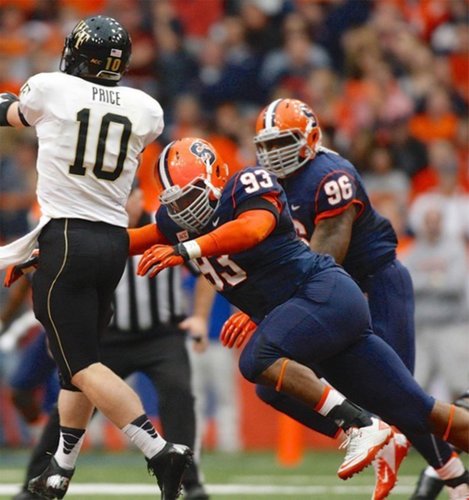 11/09/2018 5:08 PM
-
GREENSBORO - Carolina has signed on defensive lineman Micah Robinson (6'3", 260) for the 2019 season.
Robinson, a native of Cleveland Ohio, played football for Syracuse University, where he produced 83 total tackles and three fumble recoveries for the Orange.
After going undrafted in the 2015 NFL Draft, Robinson set his sights on arena football, where he played for the Triangle Torch and the Cape Fear Heroes of the AAL.
Robinson is ready to bring his new knowledge of arena football to the Cobras. He conveys, "I think my time over the last two seasons playing arena football has really helped my IQ for the game and helped me become more of a leader."
"Micah has played and made plays on the biggest college stage," says head coach Billy Back. "We are hoping we can help catapult his career to the NFL or CFL. He has tremendous talent and potential to help us really compete for another NAL championship."
ABOUT THE CAROLINA COBRAS
The Carolina Cobras are members of the National Arena League (NAL). Founded in 2017, the Carolina Cobras are starting their second season in 2019 and were the 2018 National Arena League Champions. The Cobras play their home games at the Greensboro Coliseum. Cobra Season Ticket Memberships are on sale now call (336) 445-7232 or visit carcobras.com. Follow the Cobras on Facebook at facebook.com/carcobras, twitter.com/carcobras and instagram.com/carcobras.
ABOUT NATIONAL ARENA LEAGUE
The National Arena League was founded in 2016 and hosted its inaugural season in 2017 as the premier league in arena football. The National Arena League will kick off its third season in 2019. For more information regarding expansion opportunities or partnerships, contact Commissioner Chris Siegfried at chris@nationalarenaleague.com or Expansion Chairman Jeff Bouchy at jeff@nationalarenaleague.com. For more information about the NAL visit www.nationalarenaleague.com, facebook.com/nationalarenaleauge, twitter.com/NALfootball, Instagram.com/nationalarenaleague.